Former Daytona 500 champion Junior Johnson, who claimed 50 NASCAR victories including the 1960 edition of "The Great American Race," will be behind the wheel of a 2008 Corvette Z06 as he paces the field before the start of the historic 50th running of the Daytona 500 on Sunday, Feb. 17 at Daytona International Speedway.
Right: Junior Johnson poses during the 50th Daytona 500 Media Day (7/6/2007).

"Having a NASCAR legend like Junior Johnson pace the field of the historic 50th running of the Daytona 500 is a perfect fit," said Speedway President Robin Braig. "We're proud to call Junior a Daytona 500 champion and proud to have him get the most anticipated event in racing history underway."
Inducted into the International Motorsports Hall of Fame in 1990 and named one of NASCAR's 50 Greatest Drivers in 1998, the North Carolina native claimed his Daytona 500 victory in only his second season in NASCAR competition. That memorable win was behind the wheel of the No. 27 John Masoni Daytona Kennel Club Chevrolet Impala.
"We are honored to have one of the sport's greatest pioneers drive a Z06 Corvette pace car at the 50th running of NASCAR's 'Great American Race'", said Ed Peper, general manager of Chevrolet. "Along with recognizing Junior Johnson's 50 NASCAR wins and NASCAR's 50th Daytona 500, Chevrolet is thrilled to mark 50 years of the Impala in 2008. It's just a great match.
"To have Junior Johnson pace the golden anniversary of the Daytona 500 in a Z06 Corvette is a special way to celebrate the heritage, performance, and success of Chevrolet in NASCAR," added Peper.
Johnson's 50 NASCAR race wins make him one of the most successful drivers of his era. In fact, of those 50 victories, 23 were in GM products: five in Oldsmobiles, eight in Pontiacs, and 10 in Chevrolets. Of those 10 Chevy wins, seven were in the famous No. 3 Holly Farms Impala. As a car owner, Johnson claimed 139 victories and six championships in NASCAR's top division while employing legendary drivers Darrell Waltrip and Cale Yarborough.
Johnson joins past drivers who have paced "The Great American Race" including Baseball "Iron Man" Cal Ripken Jr., Actor Ben Affleck and Tonight Show host Jay Leno.
This is the 37th consecutive year that General Motors has provided the Daytona 500 with the Official Pace Vehicle, and the fifth year running that Chevrolet has chosen Corvette for the job. The '08 Corvette Z06 will be decked out in "anniversary gold" in honor of the occasion, making it one of Chevy's most uniquely designed pace cars.
24 Daytona 500 Champions To Serve As Grand Marshal For 50th Daytona 500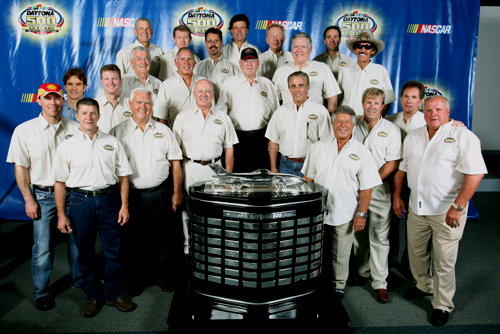 The 24 living DAYTONA 500 Champions will serve as Grand Marshals for the historic 50th Running of the Daytona 500, giving the command "Gentlemen, Start Your Engines," to get the most anticipated even in racing history underway.
On Sunday, Feb. 17th, the culmination of DIRECTV Speedweeks at Daytona International Speedway will peak when 24 legends get NASCAR's biggest, richest and most prestigious race started from "The World Center of Racing."
Drivers on hand throughout the momentous weekend who will order the most anticipated words in racing include: Bobby Allison (1978, 1982, 1988); Mario Andretti (1967); Buddy Baker (1980); Geoff Bodine (1986); Ward Burton (2002); Derrike Cope (1990); Dale Earnhardt, Jr. (2004); Bill Elliott (1985, 1987); A.J. Foyt (1972); Jeff Gordon (1997, 1999, 2005); Pete Hamilton (1970); Kevin Harvick (2007); Ernie Irvan (1991); Dale Jarrett (1993, 1996, 2000); Jimmie Johnson (2006); Junior Johnson (1960); Fred Lorenzen (1965); Sterling Marlin (1994, 1995); Marvin Panch (1961); David Pearson (1976); Richard Petty (1964, 1966, 1971, 1973, 1974, 1979, 1981); Darrell Waltrip (1989); Michael Waltrip (2001, 2003); Cale Yarborough (1968, 1977, 1983, 1984).
"It's only fitting that these Champions take part in the most exciting prelude to the most anticipated event in racing history," said Speedway President Robin Braig. "We're honored to have these living legends on site to help celebrate this momentous occasion."
Race recap - The race polesitter was Jimmie Johnson, and the race winner was Ryan Newman, driving the Penske South- Alltel Communications Dodge.