Calling all Corvette Pace Cars... Bring your car back home to Indy!
2011 marks the historic 100th Anniversary of the first running of the Indianapolis 500, and the Indianapolis Motor Speedway is offering an opportunity for you to participate in the activities surrounding this momentous occasion. To help celebrate the history and tradition of this great event, they will be hosting the 100th Anniversary Pace Car Reunion, a once-in-a-lifetime event to be held inside the hallowed grounds of the Indianapolis Motor Speedway on May 21-22, 2011.
They will be accepting only Indianapolis 500 "Official" Pace Cars or Track/Festival Cars to participate in their reunion and if you would like to participate with your Indianapolis Pace Car, now is the time to submit an application to participate.
To clarify - Because of this Reunion being organized in honor of the 100th Anniversary of the Indy 500, they are only going to allow "Indy 500 Pace Cars" of any brand / model to register and participate in the show. To clarify even further, if you own a 1978, 86, 95, 98, 03 (with 02 Indy Pace Car decals), 07, or 08 Corvette Pace car produced by GM and sold to the public, they will allow you to enter. If you own one of the "specialty" years where no replicas were made, but Corvette was the Pace car (ie. 2004, 05, 06) you are welcome. Additionally, if you own a Corvette that was used as a "Festival or track/event" car during one of the Indy 500 races at the Speedway (like 1990, 2002, 03, 04, 05, 06, 09, 10 to name a few) you are included. They are not going to allow "other" Pace cars, like those used at Daytona, or even the "Brickyard 400" to participate.
If you have any further questions, please contact the Speedway directly for guidance on if your vehicle is included or not. This is their event and rules, and they can tell you pretty quickly if you can register or not.
If you would like more information on the event activities or would like to participate in the 100th Anniversary Pace Car Reunion event, please vist the official Speedway website for more information or to download and complete the application form HERE. UPDATE : Registration is limited to 500 entries and has been extended to March 31, 2011 so don't delay!
To keep our members informed of updates, we have setup a thread in our Pace Car Forum to discuss new information as we receive it.
Click here to visit our forum and join in on the discussion. We will also be discussing a PCR get-together during the event such a brunch or Friday night dinner, so submit your entry today and let's make some plans to fill up the Speedway with our Corvette pace cars!
The PCR would also like to encourage you to make plans to attend the Celebration and take part in the festivities on qualification weekend for the Indianapolis 500! This is one sweet deal, and includes those Pit Badges that will give almost total acces into the garage area and other locations during qualifying weekend, as well as the participant reception on Saturday evening. You will also receive a parking pass !!
We look forward to seeing you at the Indianapolis Motor Speedway on May 21-22, 2011.
---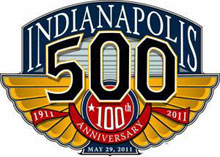 Tentative Event Schedule

May 21-22, 2011
(This schedule will be updated as we receive updates from the event organizers)
Friday

Cars will load in and be staged on the Indianapolis Motor Speedway infield..................................
Noon - 5:00pm

Saturday

Cars will be staged and voting for "Fan's Choice" will take place..................................................
8:00am - 6:00pm
Reception location TBD (only open to pace car reunion participants).……....................................
6:30pm - 8:30pm

Sunday

Cars will be displayed in the infield, in their assigned spots that they received Friday....................

7:30am - 6:30pm
---
Things to See and Do at the Event:
-Hundreds of Pace Cars - All brands and models used over the years, not just Corvettes!
-Indy 500 Pole qualifying on Saturday and "Bump" qualifications on Sunday
-Catch up with Old Friends
-Browse the History at the Indianapolis Motor Speedway Museum
-Walk thru the Garage area and get autographs from your favorite drivers
-Official agendas have not yet been posted by the Speedway, but there will be much more to see and do !
Check here for our event coverage from the 2006 Reunion sponsored by IMS !