1999 Le Mans 24Hr Pace Cars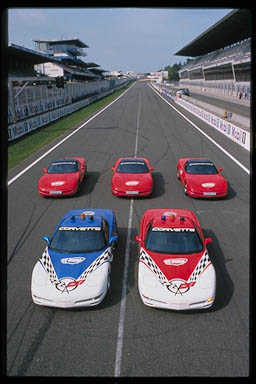 1999 Corvettes paced an international field of sports cars as the Official Pace Car of the 67th running of the
Le Mans 24 Hour race on June 12-13, 1999.
Located 150 miles west of Paris in Le Mans, France, this legendary racing event is an absolute endurance test of both man and machine. By becoming part of the rich history and tradition of Le Mans, automakers take the
challenge to prove their "global" expertise in automotive engineering and design.
Corvette's participation as the Official Pace Car of the
Le Mans 24 Hour race was a key component of Chevrolet's strategy to reinforce Corvette's image as a world-class sports car. Involvement in such a global event showcases the fact that Corvettes are sold not only in the U.S., but around the world as well.
Chevrolet officially returned to American road racing earlier this year with the introduction of the C5-R, a GM-engineered GTS sports car based on the production Corvette.
All 1999 Corvettes came standard with a 345-horsepower, 5.7-liter V-8 LS1 aluminum block engine, a six-speed manual transmission, a 3.42 limited-slip rear axle ratio, the Z51 suspension package (designed for sanctioned racing competition), speed-sensitive power rack-and-pinion steering, anti-lock (ABS) brakes, electronic traction control and Goodyear Eagle F-1 GS run-flat
tires. Only the Corvette coupe and convertible were offered in the international marketplace this year.
The only modifications made to the production vehicles for pace car duties include custom wheels and exhaust system, a unique paint scheme and installation of roof-mounted safety lights.