Dana Forrester Watercolors - www.danaforrester.com

"Steak and Eggs" - Dana'a artwork featuring
ALL 9 Indy 500 Pace Cars,


Pictured above, the "Atomic Pace Car" print !




Registry Members, please Welcome and support Dana Forrester Watercolors, one of the Chevrolet Corvette Pace Car Registry's Supporting Vendors. Dana is well known for his Corvette artwork, which also include some of our favorite Corvettes, those Pace Cars !
Dana has just introduced his latest Corvette Pace Car artwork, titled "Westside Pace Cars".
Dana said he wanted to keep with the Indy racing theme and since the Speedway is considered on the west side of Indianapolis, he created the Westside Auto Parts wall and an advertisement for Bardahl Oil Additive with the older racer. His reflections really jump on this piece and he is really proud of it.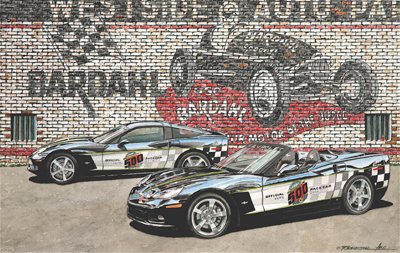 These are limited edition prints, and Members can reserve specific numbers in advance. Giclee prints are available in four sizes:
11 x 17 unframed, framed to 20 x 24
14 x 22 unframed, framed to 26 x 32
19 x 29 unframed, framed to 32" x 40" (unable to ship framed)
26 x 40 unframed, framed to 40" x 53" (unable to ship framed)
The original is still available and is 14" x 22" (framed to 26" x 32") and is priced at $4500.
Contact Dana today for special Registry Member pricing and Reserve yours today!
Check out Dana's website at www.danaforrester.com, or email at dana@danaforrester.com
Also watch for Dana at some of the large Corvette shows this year and say "Hi". He plans to attend the C5/C6 Bash and 15th Anniversary Celebration (NCM), Bloomington, and several others.