Galli Shirts & Sports Apparel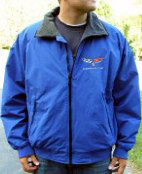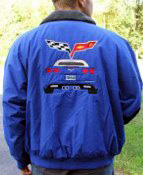 Your Registry has negotiated for you some special prices on GALLI Corvette Sports Apparel!
You may have seen or met the Gallis, Vin & Erika, at one of the National Corvette Museum events – they do a lot of specialty embroidery work for NCM. Fortunately for us, they have taken an interest in Corvette Pace Cars and have some unique items available to us.
After several conversations with the Gallis, they are able to do their Pace Car embroidery designs at special pricing for Registry Members. These include not only the likeness of your Pace Car, exterior and interior, on their shirts, polos, and sweatshirts, but also the rear design WITH YOUR OWN LICENSE PLATES embroidered in.
Members, In order to access these special prices, you will need to write in your current password (changed every January) on your order form (or if you prefer, phone it in). If you don't remember what the password is, just email Noel, our Membership Director.
The order form can be found on the Members Only online FORUM. It can be opened with Adobe Acrobat and printed. Once printed you can fill out and email, fax, or USPS mail directly back to the Gallis. They recommend you call at the number on the order form if you have any questions or special instructions, and if you wish one of the rear-design items.
Gallis market a full line of Embroidered clothing apparel, Hats and Visors, T-Shirts, Polos, Sweatshirts, and Jackets. Pictured below are a few more photos of their items, and you can see more of their selection and work on www.gallishirts.com, and click on the Corvettes tab on the left.