August 21, 2010 (Article contribution and photos courtesy of Diane and Mike Maguire.)

The Wasaga Beach Corvette Club has a very special event this weekend! This year is the 20th Anniversary Beach Cruize Weekend, August 20, 21 and 22nd. and is also the 35th Anniversary of Quad C, the Canadian Council of Corvette Clubs. They have a number of special events arranged for this unique Corvette weekend. This is the largest Corvette event held in Canada and they estimate 300 - 400 Corvettes from Canada and the US, with thousands of people attending.
And it will also be a very special weekend for Diane and Mike Maguire.They are the proud owners of a very special Pace Car, sponsored by LUCAS Oil, and they will be leading 300+ Corvettes on a 2-hour road tour!
This most scenic Corvette Cruize will take the caravan through the beautiful Georgian Triangle area of Ontario and up to the scenic Blue Mountains, this will be a most memorable cruise!
The Maguire's have the distinction of having now been in 75 parades of which they have lead 65 of them with 2 more in the next 2 weeks!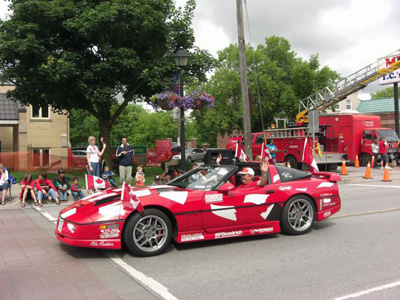 The Maguire's Special Events Corvette Pace Car leads
2009 Aurora Canada Day Parade, their 60th parade!
This Pacer is a 1988 SPECIAL EVENTS CORVETTE PACE CAR. Built as a Pace Car by owner Michael Maguire and D&R Electronics, custom installing 12 strobe lights for the P.A.C.E.R. Program – Police And Community Educating Racers a program to reduce street racing. This was the first domestic vehicle involved in the program, that was not a Police vehicle and after the graphics, it was now ready to go.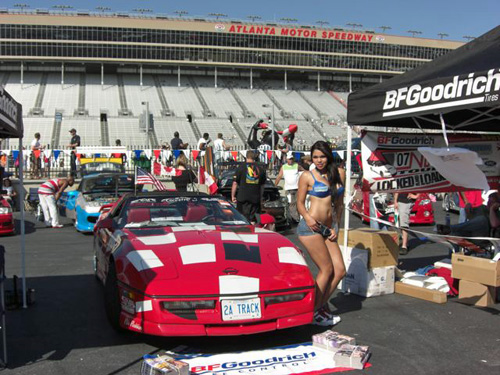 The Maguire's have lead two NOPI Tours in 2003 and 2007 from Toronto
to Atlanta Motor Speedway in Atlanta, Georgia for the NOPI Nationals.
The Pace Car has been used at numerous charity events and has been on display at grand openings, in front of stages at concerts, the CNE Canadian National Exhibition, the Rogers Centre (SkyDome) for the Canadian International Autoshow in 2007 and 2008, and also Performance World in 2009 (pictured below).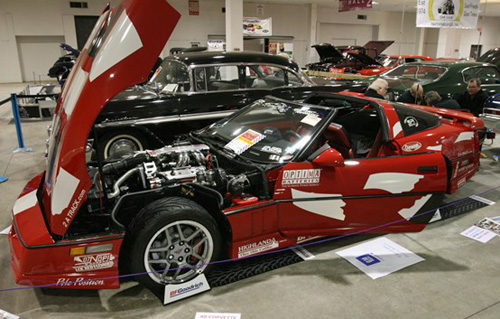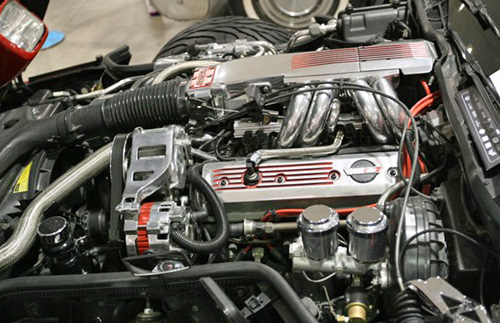 Most recently it has also been used to promote a Breast Cancer Fundraiser that Diane and Mike had done in 2008 and 2009 for the Cancer Program at Southlake Regional Health Centre in Newmarket raising $10,650. The Pace Car is also known as the LUCAS Oil Pace Car and can be seen on their website www.lucasoil.ca.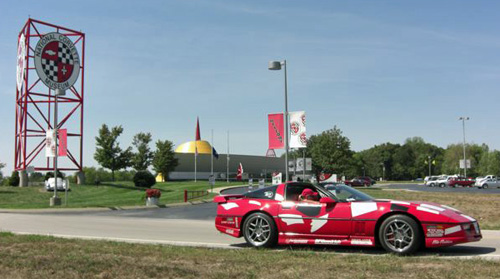 Pictured above - on a trip back home to Bowling Green, Ky.!
And at the end of the 2009 season the Pace Car had over 231,000 kms (over 138,000 miles) on it! Is that a testimonial for using LUCAS Oil I wonder?
Mike has a huge story and many photos of the car in action on their website, www.2atrack.com, so stop by there to read more, and no doubt see some photos from his latest Pacing experiences!