Membership Director - Bruce Jeschke
Email: Membership@pacecarregistry.com

| | |
| --- | --- |
| | |
Year joined Registry:
2006
Pace Car(s) Owned:
1978, 1986, 1995, 1998, 2005
Other Corvettes Owned:
1991 Coupe, 2000 Millenium Yellow Convertible
Other Corvette club affiliations:
National Corvette Museum
Home Town:
Indianapolis, In.
Memorable Pace Car Moment(s):

1) Attending Pole Day at the track in 1995 and seeing all the pace cars. I always loved pacers, but after this experience I was hooked!

2) Taking my son Alex to his first Indy 500 in 2007 and showing him the Corvette Pace Car in action! 3) The 2007 Pace Car Reunion and making a lot of new friends.

Personal Message:

I've loved Corvettes since I was a little kid. My dad always had one and my earliest car memories include Corvette. Several years before I could afford the real thing, I started collecting Corvette toys and memorabilia with a special appreciation for Indy 500 Pace Car collectibles. Since moving to Indianapolis in 1992 and experiencing the race first-hand, Corvette Pace Cars and Pace Car memorabilia evolved into my passion. Now my wife and 3 kids are hooked! And we all share the same appreciation for Corvette Pace Cars!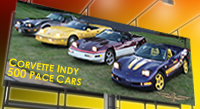 Click the image above to visit my personal website !