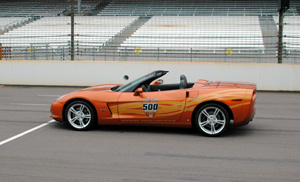 One of the primary purposes of the Corvette Pace Car Registry is to track as many as possible of the 16,507 Indy Pace Car Replicas that were produced by Chevrolet in 1978, 1986, 1995, 1998, 2007, and 2008.

As time passes and these Pace Car Replicas become more valuable and collectible, their historical provenance will be more important.

A total of 500 Indy Pace Car Replicas were produced in 2007. A total of 57 were assigned to Track / Festival purposes this year. Please take a moment to register your '07 Pace Car using the spaces below.