2005 Daytona 500 Pace Car
A Chevrolet 2005 Corvette paced NASCAR's most prestigious event -- the Daytona 500 -- on Feb. 20, 2005. Dale Earnhardt Jr., the 2004 Daytona 500 champion, was on-hand to introduce the pace car.
The pace car was based on the 2005 production Corvette. The Daytona 500 provided a good opportunity to showcase the capabilities of the Corvette.
The design of the Daytona 500 Corvette pace vehicle included elements that reflect the heritage and attitude of historic winning Corvette race cars. It was painted in millennium yellow with a black racing stripe centered across the hood, roof and trunk lid. The Daytona 500 logo was displayed on each door along with Chevy's "An American Revolution" slogan on the rear spoiler.
The Corvette pace car was nearly identical to the production version. Both were powered by a 6.0-liter V-8 LS2 engine that produces 400 horsepower at 6,000 rpm. They have a top speed of 186 mph on a race track and reach 0-60 in 4.2 seconds.
This was the 34th consecutive year General Motors has provided the Official Pace Car for the Daytona 500. The Daytona 500 was one of 60 NASCAR events Chevrolet paced in 2005, including 28 NASCAR NEXTEL Cup, 17 Busch Series and 15 Craftsman Truck Series races.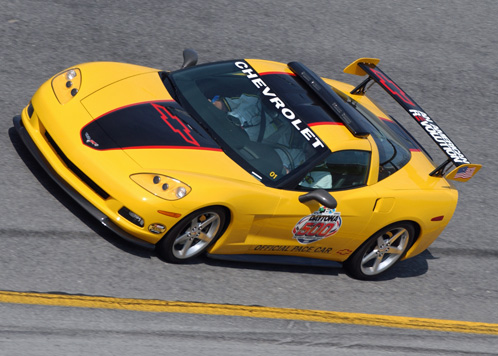 Pace car #1 on track.