2007 Daytona 500 Pace Car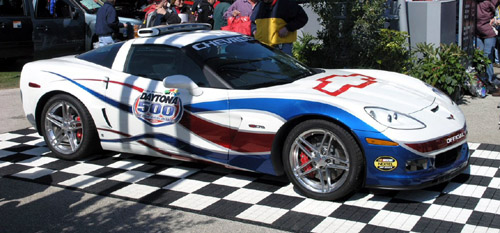 Photo used with permission. © 2007. Photo by James Mankowski.
DAYTONA BEACH, Fla. - NEXTEL Cup drivers Tony Raines and Jeff Green, along with hundreds of fans in Daytona International Speedway's acclaimed NEXTEL FANZONE, got the first look at the 2007 Daytona 500 pace car with a special unveiling during the NASCAR Jackson Hewitt Preseason Thunder Fan Fest.
Raines, driver of the No. 96 Chevrolet for Hall of Fame Racing, and Green, driver of the No.66 Chevrolet for Haas CNC Racing, helped unveil the Chevrolet Corvette that will pace the field for the 49th annual Daytona 500 on Sunday, Feb. 18. Speedway President Robin Braig and Jeff Chew, Marketing Manager, NASCAR Chevy racing also helped unveil the car which dons the 2007 Daytona 500 logo and is highlighted by red, white and blue accents on each side and the Chevrolet logo on the hood.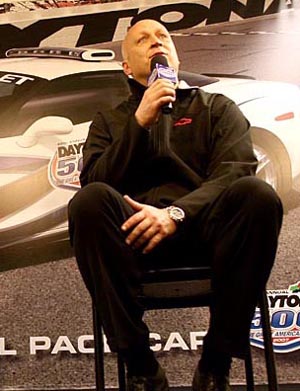 Cal Ripken, who displayed remarkable drive during his Hall of Fame baseball career, drove the pace car during this year's Daytona 500.
Ripken drove the Chevrolet Corvette pace car that led the field of 43 to the starting line for the 49th Daytona 500 on February 18. Baseball's iron man with a record 2,632 consecutive games played, Ripken was elected to the Baseball Hall of Fame earlier this month.
"The Daytona 500 is one of the most storied sporting events in the country and I am thrilled and honored to be a part of it," Ripken said. "NASCAR drivers are tremendous athletes and I look forward to being in that environment."
"Cal Ripken joins an outstanding list of celebrities who will be at this year's Daytona 500," Daytona International Speedway president Robin Braig said. "NASCAR's most prestigious event has a history of attracting high-profile athletes and entertainers, and this year is no different."
2007 marks the fourth straight year that a Corvette has paced the field and the 35th straight year a GM has paced the field.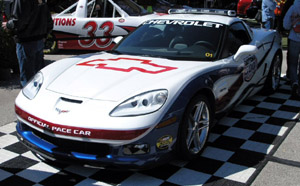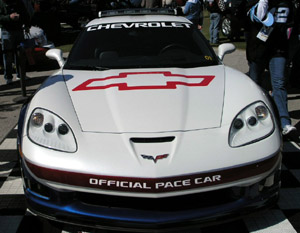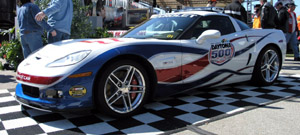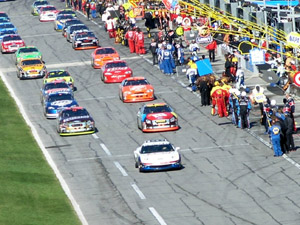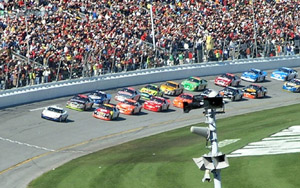 Photos above used with permission. © 2007.
Photos by James Mankowski.
Kevin Harvick nipped Mark Martin at the start/finish line to capture the 49th annual Daytona 500 - and yet another race win for the Chevrolet Monte Carlo SS - the closest Daytona 500 finish since the advent of computer scoring.
Harvick, who started seventh on the green-white-checkered finish, got drafting help on the outside from Matt Kenseth on the final lap and edged Martin at the start/finish line by less than a half a car length while a multi-car accident broke out behind.
Corvettes were also used as Track cars and other support vehicles during the event activities at this year's Daytona Speed Weeks. Some photo highlights follow.
Driver intros ... Kyle Busch, Jimmie Johnson, and Dale Jarrett below ......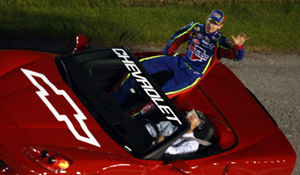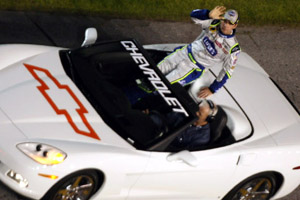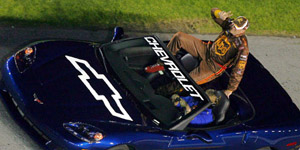 Below: The Duel 150 Pace Car at work....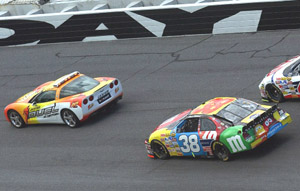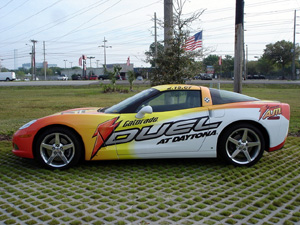 And don't forget the Orbitz 300 Pacer..