Welcome !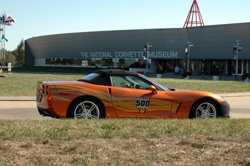 11/29/2010
Hello everyone, it's been a long time. Today you should have noticed some significant changes to our website.
2010 was a big year for the Registry, as we met for our 6th bi-annual Pace Car Registry Reunion this past September. Check out the coverage page and MANY photos that were taken to document our 3-state event!
We have also been busy gathering up even more information for our Members Only library, including additions of the inventory information for 1986 Corvette Indy 500 track cars, as well as those for the 2004, 2005, 2009, and 2010 Indy 500 Corvette Festival / Track cars that were used for those races.
We are also updating our Forum pages and eliminating our "For Sale" webpage. It will be replaced by the interactive Forum page and can be managed directly by the seller.
I have also updated the main menu bar with direct links to many new pages and special events that the PCR has been involved in this year. Almost every page has been updated with many new photos that we have been gathering, so please surf around to see all of the updates!
As always, if you see any information on our site that you believe is in error or misstated, please contact me at the email address below to discuss. We are "piecing" this information together for the older years from photos / memories / information that has been discovered or shared by others, so we value your input into our historical libraries. Also, if you have a special story to tell about your Corvette Event vehicle, we also encourage photos / stories for our viewers to read.
I hope you enjoy this site and stop by often since it will be refreshed often with new information about YOUR favorite Corvettes! And don't forget to stay in touch with your officers and other PCR members and guests on your PCR Forum !
Sincerely,

Bob Kirsch
CommDirector@pacecarregistry.com
2007 Indy Track Car # 18