For the 2010 NASCAR Brickyard 400, Arctic White Corvette and Torch Red Grand Sport Convertibles used during the Indy 500 were retained and rebadged with the Brickyard 400 event logos. Camaro Coupes were also used.
Jamie McMurray, driver of the #1 Bass Pro Shops Chevrolet was this year's winner. Earnhardt-Ganassi Racing dominated this year's race by placing the #42 Target Chevrolet driven by Juan Pablo Montoya on the pole to start the race. JPM was a dominate factor during the race, but went out late in the race after a spin and crash. The win was huge for Earnhardt-Ganassi Racing, which this time last year was struggling to prove the team was stable and capable of competing for wins. On Sunday, Chip Ganassi became the first team owner to win the Daytona 500, Indianapolis 500 and Brickyard 400 in the same season.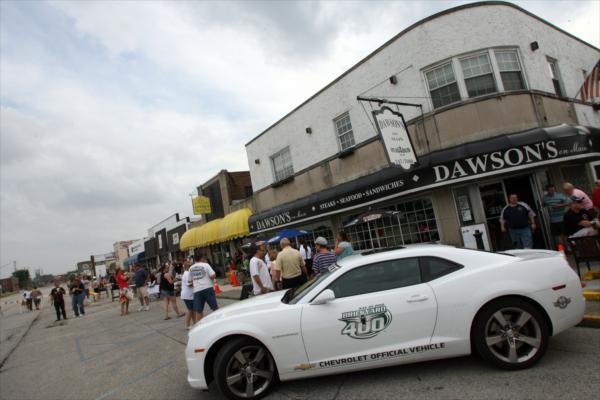 Pictured above is one of the Camaro Official vehicles,
taken during the Brickyard 400 Nascar Hauler Parade.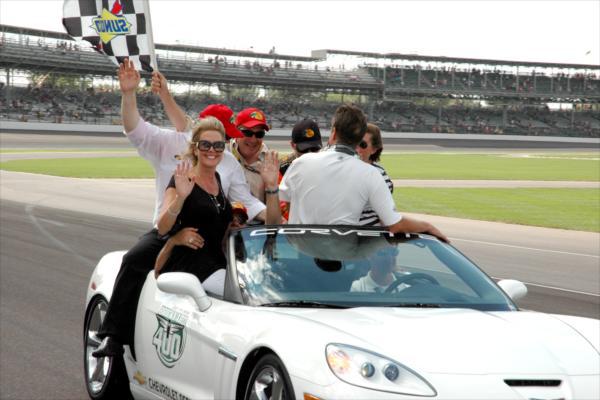 This poor little Grand Sport held up fine to no less than 81/2 riders (yes, Jamie's wife was expecting !)
Check out that rear wheel clearance !!