Reunion 2007!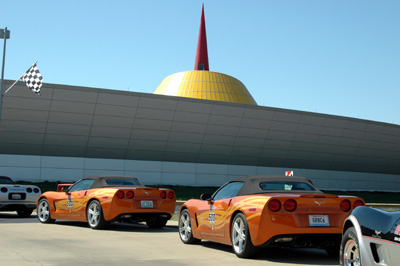 THE 4TH PACE CAR REUNION
September 26-29, 2007
Well, another memorable reunion of the Pace Car Registry is now history. The overall concensus was that it was a great time! The weather cooperated for the most part, with a slighly soggy start on Wednesday, but after that the weather was fine ! We had a great showing of the different varieties of cars with '78, '86, '95, '98, '02/03, an '06 Festival car, and our newest collectible, 2007's being represented !
This year, we began our reunion in the Racing Capital of the World, Indianapolis (well, actually just outside of Indy in Cloverdale, In.).
On Wednesday evening, those participating in our Indy activities arrived at the host Motel and completed registration and then began to renew old acquaintances and make some new ones over dinner.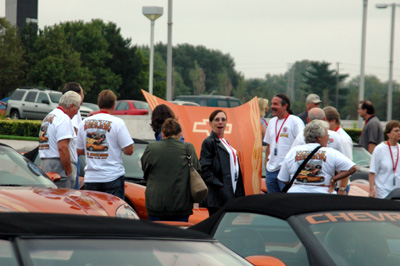 The next morning, we ventured over to the Speedway to begin our busy day. The first thing we noticed was that the grandstands next to the main gate were gone ! Some track construction is now underway for the Red Bull Indianapolis GP, the return of Motorcycle racing to the Speedway, scheduled for September 14, 2008.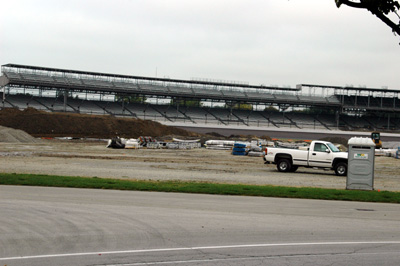 We began the day with some "free time" to tour the Speedway Museum. After that, we boarded two Speedway tour buses and took a lap of the track, stopping on the "Yard of Bricks" for a photo opp..
After the photo opp, we moved inside for our "behind the scenes" tour of the Pagoda, including the Media Center, Press Conference Room, Timing and Scoring, and the Winners Circle.
WOW, WHAT A VIEW AND WHAT A FACILITY !!!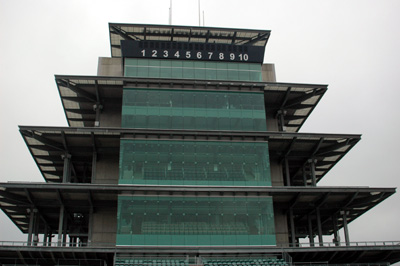 After the tour (and a little more time to peruse the Gift Shop) we left the track and headed to our luncheon engagement as the guests of Griot's Garage. This is one of their large distribution centers, and they welcomed us all with open arms. We were treated to a great lunch, offered door prize chances, and handed a free sample of their minute detailer (Speed Shine). If you wanted to purchase any of their products, special pricing offers were available that day (which included free shipping), and several of their folks were demonstrating their new detailing / orbital buffer kit (they actually spent the time to totally buff out the top half of a '95 Pace Car). After having a pro show you the right way to use these tools, it really did not look that difficult, and they went out of their way to prove you could not hurt your car with their buffer (Jim is still recovering from that attempt to burn his paint off !).
After leaving Griot's, we headed back to the Motel to "get presentable" for our dinner at the Walden Inn, in Greencastle, In. The meal was excellent in our private room, and we were treated to a special treat, Ron McQueeney, Indy's chief photographer who had lots of stories to tell about his experiences at the track and with Pace cars over the years. Until recently, Ron was also "one of us", having owned one of the '98 Corvette Track cars.
On Friday, we had a "travel day", and participants were given two choices. They could leave early and take the direct route to Bowling Green if they wanted to attend one of the Corvette Assembly plant tours, or join the caravan on the "scenic route" down US 231. The roads offered some nice curves, breathtaking views, and a chance to enjoy the "g's" occasionally. And of course we had a stop for lunch !
Next stop, the NCM !! A quick look around at the displays, and registration is again open for those only participating in the Bowling Green activities.
Our Registry Coordinator, Paul Barth, just loaned another of his Pace Car's (this time his new 2007) to the NCM for the Pace car exhibit.. along with some memorabilia for the display case !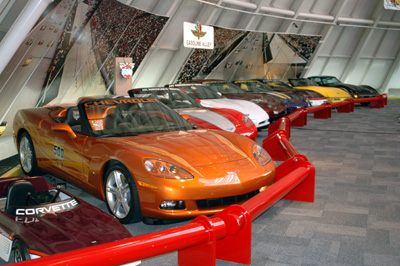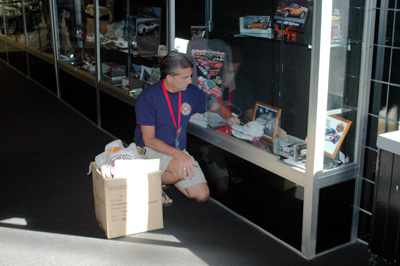 And Dana Forrester was setup selling prints. He has just introduced his "Steak and Eggs" print that has all nine Pace cars in it, and is now working on another 2007 Pace car print, and from what we have seen so far, it looks like it will be another one you will have to own !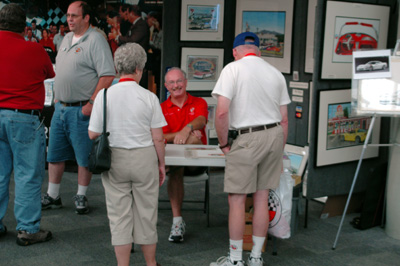 Friday evening was an "owner's night" for dinner, but then the plans were to meet at the local go-kart track for some competitive activities ! Some people are still licking their wounds ! There were two tracks (road course and Nascar oval) and they even brought the winged Sprint cars out for our group). Ahhh, If they could only read ...

Saturday.... and another very busy day.... A guided tour of the Museum, Presentations by Bob Kirsch (History of the new 2007 Pace car), Wil Cooksey (Assembly Plant history and Corvette Pace cars), and our first ever membership business meeting, where the Registry leadership can get a better feeling for what you want out of our organization. A group photo was also taken in the Circle.
One of the key activites was the unveiling of the Pace Car Registry's new brick !! This has been in the works since the 2001 Reunion !! Now, we do have limited spots located adjacent to our large brick for our Members, so if you want to reserve your place in history and have a smaller brick laid next to ours, please contact our Public Relations Director.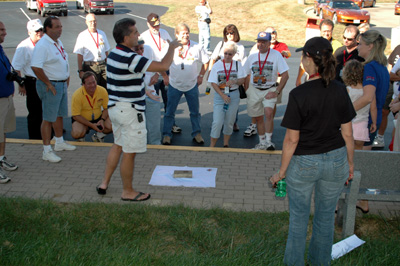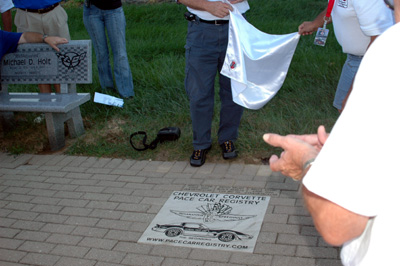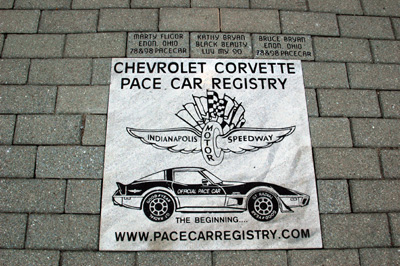 During our dinner in the NCM Skydome, we were treated to Roc Linkov and Wil Cooksey updating us on the Museum expansion plans, and inquiring on what we as Corvette enthusiasts want out of our Museum.
After dinner, Dana Forrester graced us with a presentation about how he goes about creating his artwork, and some "secrets" of his techniques. A very fun and informative speech ! Then to close the evening, there was an auction of some special collectibles that raised over $ 3,500 for the Museum.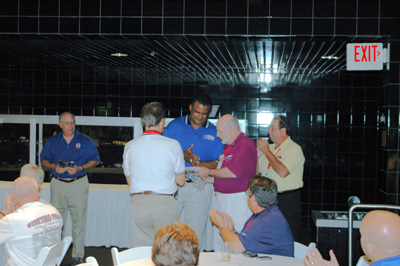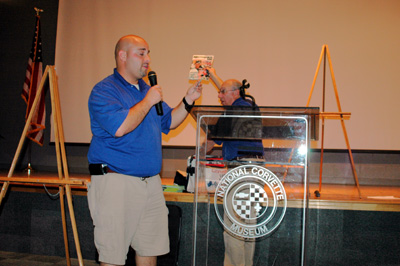 Thanks to all those who made this great event possible, front and foremost, Roc Linkov, NCM Events Manager. The list also includes Adam Boca, NCM Events Coordinator, Betty Hardison, NCM Resource Center Coordinator, Jim and Sharon Love (our friends in Indy who assisted with those activities), and the folks at Griot's Garage for that great luncheon and product demos. And special thanks go out to our guest speakers: Ron McQueeney, Wil Cooksey, and Dana Forrester. And not to forget, thanks to Stephanie Morrill for working with us on our brick design and unveiling (hope I did not miss anyone)!
Planning is already underway for our next reunion. Watch the website for more details as they develop.
If you attended the reunion and have a great photo you would like to share, just contact the Communications Director.
Bob Kirsch

To see these photos in a higher resolution, and a LOT more photos of this event, stop by The Kodak Easy Share Gallery.