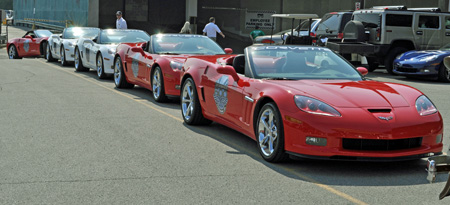 OK, so 2010 was the second year in a row that Camaro paced the Indianapolis 500 race during the "Centennial Era", but this year, 10 Corvette Grand Sport Convertibles were called to help out with Festival parade duties. Since the Camaros were coupes, the primary role of transporting the 33 drivers in the parade went to Silverado Crew Cab pickup trucks, with the drivers and their families / friends riding in the pickup bed.
The Corvettes (5 Red and 5 White) were used to carry dignitaries in the parade, include members of the first family from the Speedway.
We believe the Silverados and Corvettes will be retained at the Speedway for double duty, serving support roles at the Brickyard 400 also, while the Camaros will naturally be sold after the Indy 500 due to their event specific nature.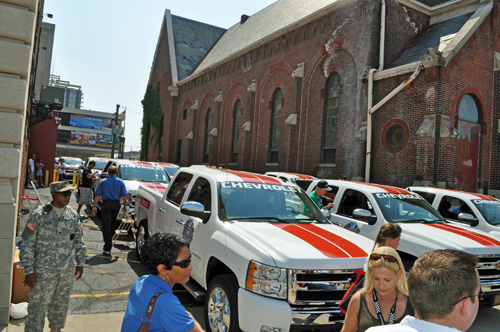 Driver rides gather to have names applied to trucks and await the start of the Parade.
---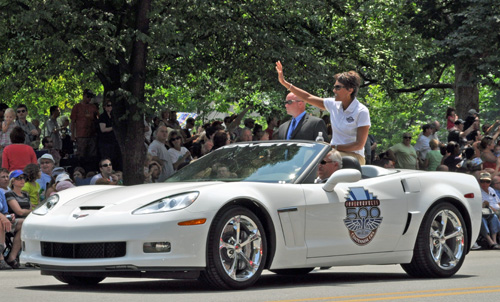 'Good Morning America' Anchor Robin Roberts is this year's Pace Car Driver.
---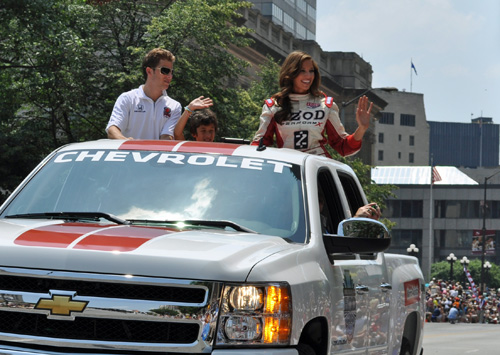 Marco Andretti and the IZOD Trophy Girl !
---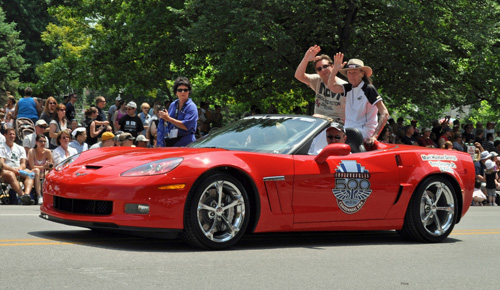 Mari Hulman George and Tony George Jr.
---
Above are but a few of our photos from this weekend.
Click HERE to view all of our photos from the Festival Parade on SmugMug.
Click HERE to view all of our photos from Carb Day.