The 1998 Indianapolis 500 Event Corvettes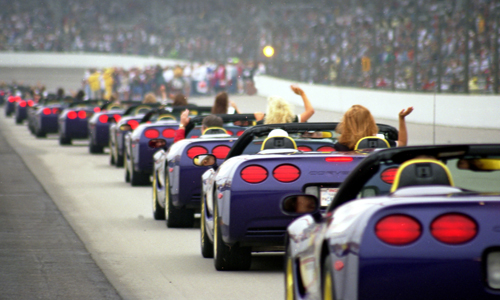 The Festival Princess lap completes prior to the start of the 1998
In addition to the "real" Pace Cars, there were 105 Corvette Pace Car Replicas used at the race this year. There were a mix of Automatics and Six-Speeds. These cars were assigned to IMS officials, the Festival Parade Committee, and some members of the Press. And there was one Corvette to be awarded to the race winner, Eddie Cheever Jr.
The most notable difference between the "real" Pace cars and the Festival / Track cars was the custom strobe light convertible deck lid that was used during the race. The bubble behind the driver and passenger's head was more pronounced and housed the lighting gear.
Pace cars at offsite staging lot prior to receiving track numbers. Note photo date, 2/19/1998.

Onsite at the Speedway prior to distribution.
All numbered and ready to go!

Sitting at the gate.....