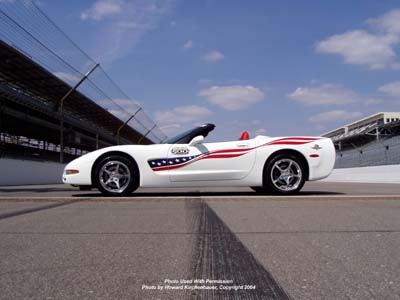 During the 2004 Indianapolis 500 race, Corvettes (and Chevrolet SSR vehicles) were used as
official support vehicles, more commonly referred to as "Festival" or "Track Vehicles".

The 22 White Corvettes and 33 Red SSR's were used for Sponsor / VIP laps which are done at 10:30 am (on race day). Each VIP was introduced individually and had their chance to wave to the camera.
After their introduction they proceeded to the SSR's in Pit Lane.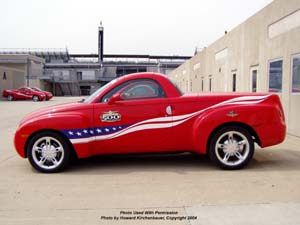 Once loaded, each car proceeded through Pit Lane exit onto the track. They lapped at 35 mph and then entered pit lane from the north and proceeded to the start/finish line where they unloaded.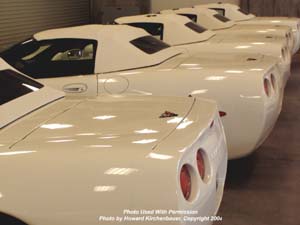 Above: Corvettes before the graphics were applied...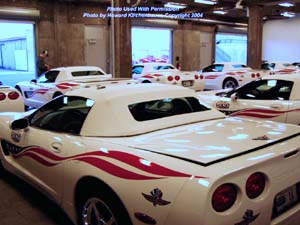 ... and after - waiting in the F1 Garage ready for final inspection!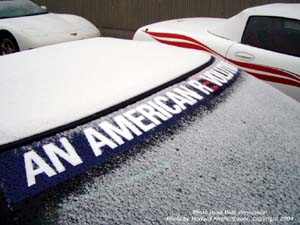 A cold start to the morning!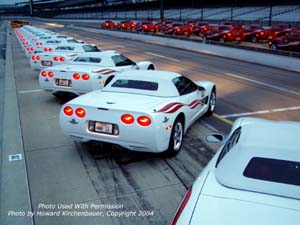 Night Shots with the SSR Festival Vehicles in the background.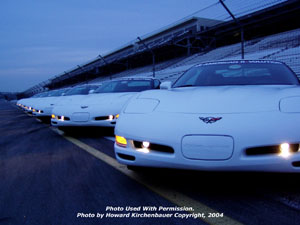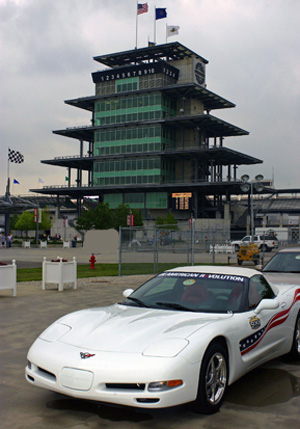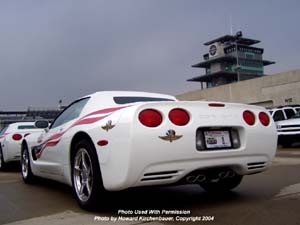 The race winner received one of the white Corvettes and several were used by GM as display and "Administrative use" vehicles.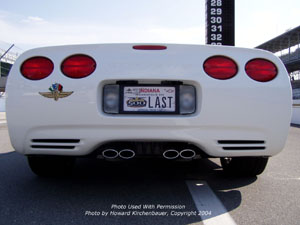 Above: In honor of the last of the C5 generation Corvettes used at Indy. This license plate says it all!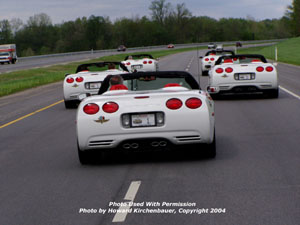 Above: Five Corvettes on their way home from Bloomington where they were used for the "Little 500". The "Little 500" is a bike race between the frat houses on the campus of Indiana University. The movie "Breaking Away" is based on this event. The Speedway has been taking cars from the track to the event for the past four years.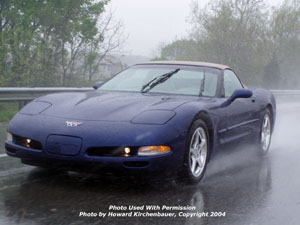 Above: A "Dealer drive-away" Corvette before having the graphics package applied.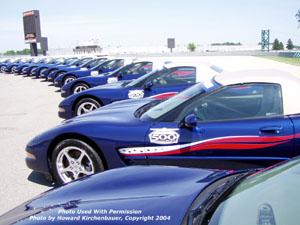 All of the Lemans Blue Corvettes were used for the "Dealer drive-away" program that was sponsored by the North Central Region of Chevrolet.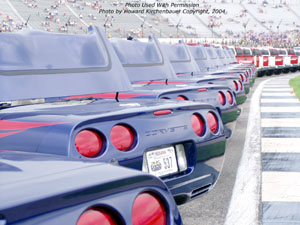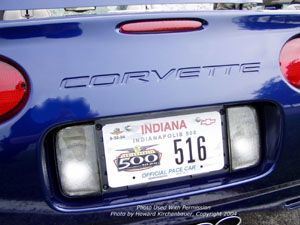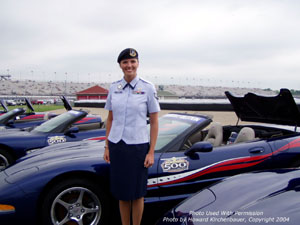 On race day, 44 Corvettes and 22 Colorado's, driven by 66 proud dealers from Chevy's North Central
sales region had a parade lap. These were white and red so with the Corvettes on track it was a red,
white and blue lap, with the vehicles sent out in order. Riding in these Chevrolet vehicles were some
very special guests for the 2004 race. They included almost 100 members of the military representing
all branches of military service.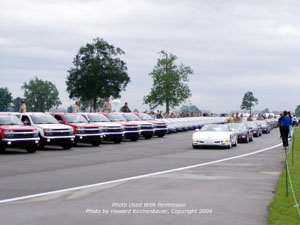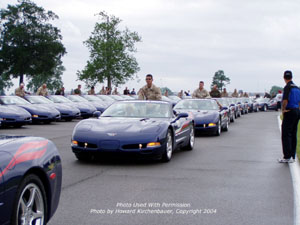 Schedule of the Day's Events

10:52 am
The command "Lady and Gentlemen, START YOUR ENGINES" was given.
10:53 am
Parade Laps
10:58 am
Pace Laps
11:00 am
The 88th Running of the Indianapolis 500-Mile Race