2006 Opening Day At The Indianapolis Motor Speedway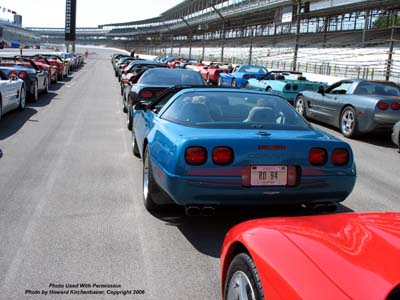 As part of the opening ceremonies in preparation for the Indy 500, Sunday May 7 was rookie orientation and qualification day. In honor of the Speedway's 90th Anniversary, and as part of the opening ceremonies, the 2006 Corvette Z06 Pace Car led a parade lap of 90 Corvettes as part of the plans.
Corvette Marketing turned to the National Corvette Museum (NCM) to arrange for the 90 Corvettes, and NCM members and supporters Jim & Sharon Love stepped up to the plate to help with the arrangements and the gathering of the 90 Corvettes. With only a short amount of time to meet the request, Sharon & Jim turned to the clubs in the Indianapolis area to get the word out. Participants were taken on a first come basis and the 90 slots and 5 standby positions were filled in a matter of a couple of days. Participants received passes to the event, parking in a special corral and lunch in addition to the parade lap.
The cars lined up three abreast with 15 rows ahead of the row of bricks which they started in line with Pit 10. The remaining 15 rows lined up on the row of bricks and followed out on track for a total of 90 Corvettes. The actual Corvette Pace Cars from the museum were in Pit Lane with the Borg Warner Trophy. After the lap the three rows exited out of this Bus Gate.
Wil Cooksey, Plant Manager, GM Bowling Green Assembly Plant was introduced, to present the 2006 Indianapolis 500 pace Vehicle to Brian Barnhart, President and COO for the Indy Racing League.