For 2010, we thought that Corvette would not be involved in the Big event this year. Camaro was selected as the Official Pace car for the second year in a row, and Chevrolet Silverado pickup trucks were used in the IPL 500 Festival Parade to carry the Race drivers - no doubt because the Camaro's assigned to the Festival Committee were all Coupes and would not be preferred for Parade duty. The Silverados had a reverse graphic package (White Crew Cabs with dual Orange stripes) to the Camaro Pace Car (Inferno Orange with White stripes).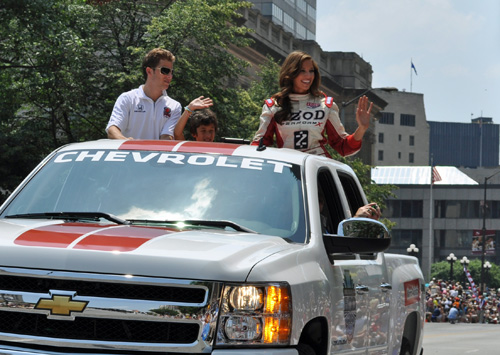 Marco Andretti and the IZOD Trophy Girl in a Silverado take to the streets!
BUT, later in the month of May, ten Corvette Grand Sport Convertibles arrived at the Speedway and received basic graphics (race event logo on doors and CORVETTE windshield header. You had your choice of six Red or four White Convertibles.
The cars were assigned track numbers from 89 to 99 - with 94 mysteriously missing? They were used in the Festival Parade and carried the Camaro Pace Car driver, Robin Roberts ("Good Morning America" Anchor), and members of the Hulman-George family and several other key individuals.
Be sure to check out our 2010 Indy 500 Festival Car Inventory located in our library.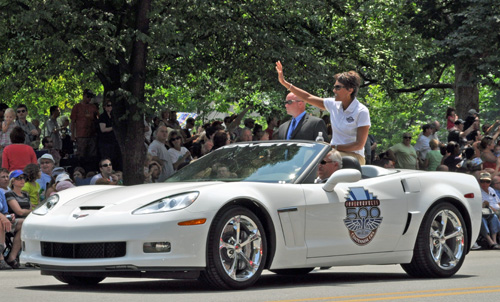 Official Pace Car Driver Robin Roberts in the Festival Parade.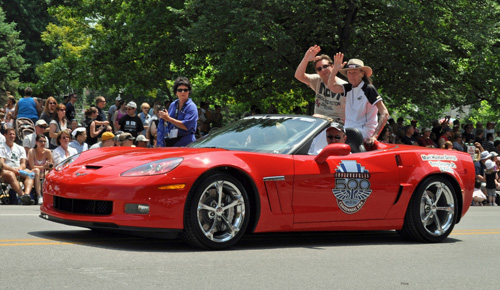 Mari Hulman George, Tony George Jr. and Family share a ride.