For the 2002 Indianapolis 500 race, as mentioned on our Pace car page, Chevrolet rushed three of the 2003 50th Anniversary Red Corvette Coupes to serve as the "Official Pace Car". Additionally, they sent quite a few more support vehicles.
The 2002 track and festival cars included three 2002 Corvette convertibles in Speedway White and a fleet of sixty-two Sebring Silver 2002 Chevy Camaro Z28 convertibles. These cars were decorated with Indy 500 graphics and were used for the 500 Festival Parade and for VIP transportation.

Pictured above is one of the Camaro Festival cars in front of the dealer promotion Corvettes, before they have had their graphics applied at the Speedway.

Pictured to the right, pre-race activities include a parade lap with the 500 Festival Princesses and their Queen, seen here in the Camaro's assigned to the Festival Committee this year.
In addition to the 2003 Corvette pace cars and 2002 Corvette and Camaro track and festival cars, an additional sixty-six 2002 Corvettes were used as part of the Indy 500 festivities.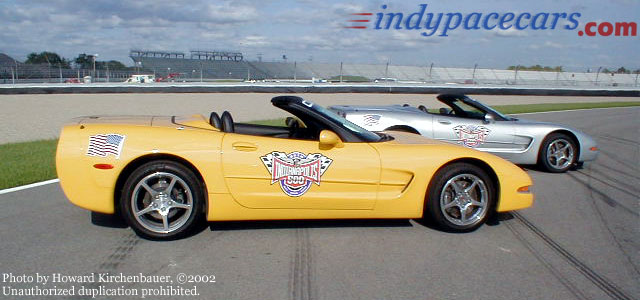 Thirty-three Millennium Yellow and thirty-three Quicksilver Corvette convertibles decorated with the 2002 Indy 500 logo and American flags were used during the pre-race parade laps to honor our veterans. These cars were part of a dealer promotion and were distributed to Chevrolet dealers around the North Central region to be sold to the public after the race.