Reunion 2008!
THE 5TH PACE CAR REUNION
September 19-21, 2008
Well, those of us who are crazy about Corvettes, especially Pace Cars, could take lessons from the 500 + Camaro owners who gathered September 19 – 21 for the "Indy '08, Back at the Brickyard" event at the Indianapolis Motor Speedway (IMS). The event was sponsored by GM around its Centennial Celebration, and by the Central Indiana Camaro Club. It was billed as an F-Body get together, as well as to welcome back any GM Pace Vehicle. The total attendance was 518 registered vehicles (18 Corvettes), and over 1,000 people. All cars were parked in the Garage area at the Speedway.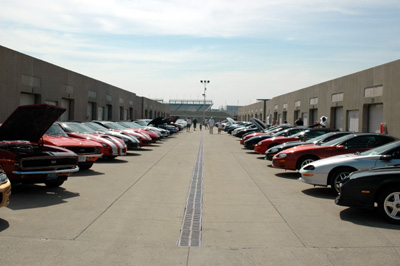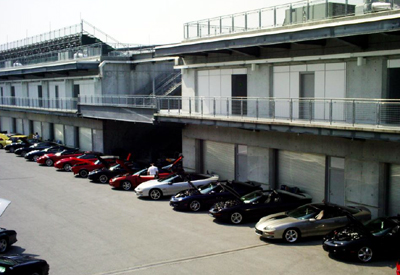 GM's main goal was to show off the new 5th-Gen Camaro (Corvette has our C1-C6, Camaro has 1st-Gen thru 5th-Gens), available in 2009 (as a 2010 Model Year) after a hiatus of 7 years. They had one of the camoflaged "mule" cars, and several production cars in various trim levels and colors. Below are some photos from the unveiling, which included a short presentation by Scott Settlemire from Chevrolet (in yellow helping with the unveiling).
GM also had a collection of vehicles on display, including a Cyber Gray ZR1.
As mentioned, it was also a gathering of GM Pace Cars and track support vehicles, mainly Camaros, of course, but with a decent participation by Corvette Pace Car owners – nearly all of the latter were Members or registrants in our Registry. There were some very nice and unique vehicles present, including an SSR NASCAR Pace vehicle (driven by Jay Weidner, a former '78/'95 Member), several of the earlier C1500 support trucks, and even a 1986 Chevrolet Cavalier support vehicle.
There were even some of the "Real" Pace cars from years past setup in a special indoor display.
There was plenty to do over the weekend. There were free shuttle buses running between the Speedway, Downtown Indianapolis, the Zoo, the Children's Museum, and the Host Hotel (The Holiday Inn North at the Pyramids). In addition to looking at all of the entrant cars and talking to their proud owners, you could tour the IMS Museum and Gift Shop. The schedule highlights looked like this :
Friday -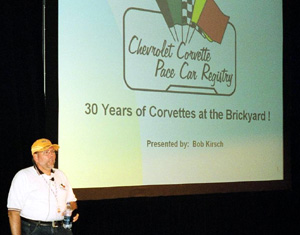 Saturday -
Sunday -
Additionally, those Registry members attending the event that could not make the brunch were: LaVelle Hunt and son (all PC years), Bruce Bryan and Martha Fligor ('78/'95/'98), and Howard Kirchenbauer.
So overall, I think it is fair to say that we had another great Reunion! At this time, we believe our next reunion will be in 2010, so watch the website for more details as they develop.
If you attended the reunion and have a great photo you would like to share, just contact the Communications Director.
Article developed by Noel Osborn and Bob Kirsch.

To see these photos in a higher resolution, and a LOT more photos of this event, stop by The Kodak Easy Share Gallery.