2010 Indianapolis 500 Pace Car
Thursday, December 18, 2009
Reprinted from www.indy500.com
Well, It's not a Corvette, but officials from Chevrolet and the Indianapolis Motor Speedway unveiled the 2010 Chevrolet Camaro SS Indianapolis 500 Pace Car at the Speedway's Hall of Fame Museum Dec. 18.
"We've enjoyed a great partnership with the Indianapolis Motor Speedway throughout the years, and are proud to once again have the privilege of pacing the Indianapolis 500 in a Camaro," said Jim Campbell, General Manager, Chevrolet.
The 2010 Chevy Camaro Indianapolis 500 Pace Car is a 21st century sports car that looks to the future with a nod to the heritage of both the car and the race. The first year for Camaro to pace the Indianapolis 500 was in 1967, the year the Camaro made its debut. Camaro has since paced the race in 1969, 1982, 1993 and 2009.
This year's pace car features an Inferno Orange Metallic paint scheme with White Diamond rally stripes that travel from the front to the rear over the top of the body, as well as extending to the interior dash. The design is a modern interpretation of the original rally stripe that debuted on the 1969 Indianapolis 500 Pace Car.
"Chevrolet has done it again with the 2010 Chevy Camaro SS Pace Car, it is simply beautiful," said Jeff Belskus, president and CEO of the Indianapolis Motor Speedway Corporation. "The car's tribute to '500' history and its sports car feel will be a big hit with our fans, and it will look great leading the Indianapolis 500 field on Race Day."
This year's pace car is equipped with a stock 400 hp 6.2-litre V-8, an RS appearance package and leather interior with Inferno Orange interior accents. It also features design cues that further enhance the Camaro's head-turning design. Features unique to the pace car include:
•2010 Indianapolis 500 event logo painted on doors and embroidered on driver and passenger headrests
•2010 Indianapolis 500 event logo badges on front fenders
•All-new front grille insert that Chevrolet plans to offer as a future Camaro accessory 2008 Indianapolis 500 Program
•Amber lens tail lamps
•Complete safety strobe light system with custom interior light bar in the rear window (no rooftop light bar)
•All-new GM Accessory floor mats with red and orange accent stitching
The 2010 Camaro SS Pace Car will be highly visible during all Indianapolis 500 track activity days from Opening Day of practice for rookies and veterans on May 15 through the race, set for a 1 p.m. start on Sunday, May 30.
IMS officials recently announced a streamlined 2010 Indianapolis 500 schedule that combines qualifying into two action-packed days - Pole Day on May 22 and Bump Day on May 23 - yet provides only one less day of track activity compared to the 2009 schedule.
For 2010, the Indianapolis Motor Speedway will play host to the Indianapolis 500, part of the IZOD IndyCar Series, the NASCAR Sprint Cup Series' Brickyard 400 on July 25 and the Red Bull Indianapolis GP on Aug. 29 for the MotoGP World Championship.
---
UPDATE: April 6th, 2010 - Chevrolet to Produce 200 Pace Car Replicas for sale to the Public!

Chevrolet has just announced that it will build 200 or fewer 2010 Chevy Camaro Indianapolis 500 Pace Car Limited Edition models. Each of the Pace Car models will be based on an SS with the RS appearance package. A 400 horsepower 6.2-liter V8 engine will be mated up with a six-speed automatic transmission, with power put to the ground through 20-inch polished aluminum wheels. A throwback-style front grille recalls the old '67 Pace Cars, and of course the car will be painted in Inferno Orange, including the engine cover. Other tidbits include ;
* Premium floor mats with accent colors
* 2010 Indianapolis 500 event logo decal on both doors and embroidered on driver and passenger headrests
* 2010 Indianapolis 500 event logo badges on front fenders
Price is stated to be $41,950 (including an $850 Destination Freight Charge). Expect to pay a premium for the 50 that will be shipped to the Indianapolis Motor Speedway to be used as "track cars" during the month of May and will be sold thru specific local Chevrolet dealers after the race.
---
UPDATE: April 24th, 2010 - Media day activities!
Photos Courtesy Indianapolis Motor Speedway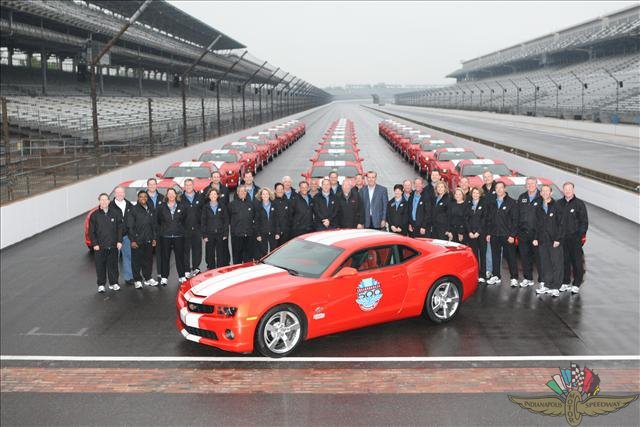 Today was "Pace Car Driveaway" at the Speedway as the 33 Chevrolet Camaro "Festival cars" were distributed to members of the "500 Festival Committee" to use from now thru the end of the race.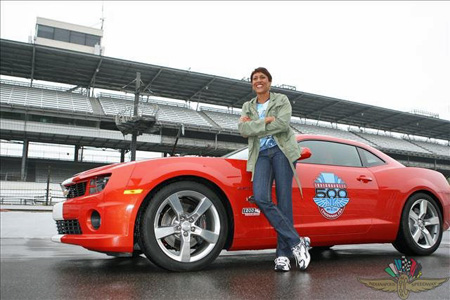 Also, the Pace Car Driver for this year's race, "Good Morning America" Anchor Robin Roberts, visited today to prepare for Pace Car driving duties Sunday, May 30 at the Indianapolis 500.