This year marked the 25th edition and "Grand Finale" of the "Special Collection" held at Bloomington Gold, in St. Charles, Il. If you remember, the Chairperson from this great event, Bill Locke, contacted our Registry earlier this year in search of a few "prime examples" of Corvette Pace Cars to be included in this once in a lifetime opportunity.
Word went out to our membership, and many responded to Bill but unfortunately he only had spaces for three Pace cars. Those fortunate to be selected (pictured below) were members Martha Fligor (very low mileage 1998), Bob Kirsch (2007 track car #18), and LaVelle Hunt (2008 Coupe track car #33).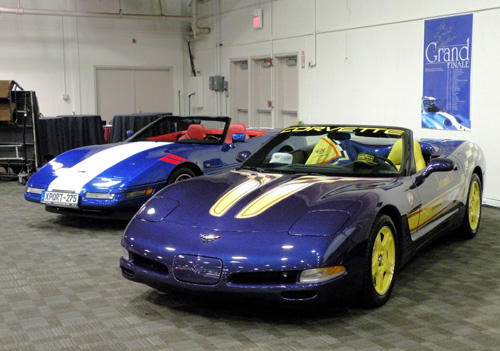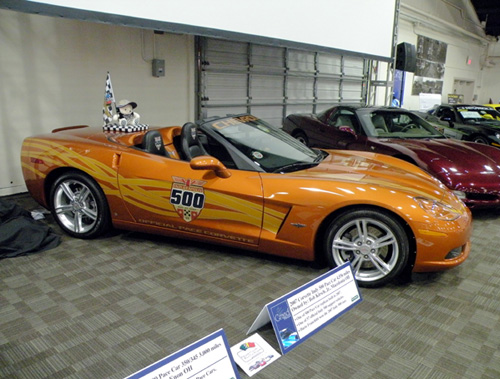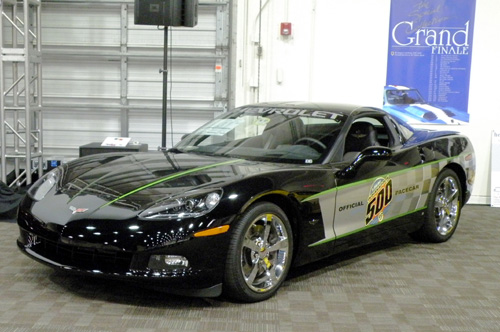 The Special Collection of Sixty Two Corvettes (plus 1 special guest) was housed across from the Pheasant Run Resort, inside the DuPage Expo Center. The Grand Finale Collection was displayed in three groups; Styling and Design Cars, Competition & Callaway cars, and Personality cars ... today's collectible Corvettes.
Also as part of the group were (4) cars which were inducted into the 2009 Hall of Fame ;
1957 Corvette 283/283 RPO 579D owned by Irwin Kroiz
1965 Corvette 327/375 Fuelie Coupe, owned by Dick Bridges
1967 Corvette 427/435 Convertible, owned by Michael Soares
1991 Calloway Speedster, owned by Will & Rhonda Prout
For those members in attendance, it soon became apparent how humbling it was to have been selected to represent Corvette Pace cars at this event.
Having our cars in the same room and collection as such cars as EX-122 (the GM Motorama Design car that was the Mother of all Corvettes), Corvette SR-2 and Stingray Racer, many Vintage Corvette racers and historically important vehicles, the 1958 Corvette that was the "39th million Chevrolet produced", and one of the latest C6RS vehicles from Pratt&Miller was amazing.
And there were several other special treats! We watched in awe as CERV-1 drove into the building under it's own power.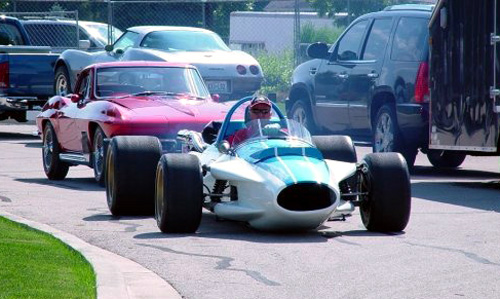 Then, the crew from Pratt&Miller pushed in a surprise guest not listed in the program ; C6.r #63, which had just returned from LeMans France, after winning it's last outing in the GT-1 class, still carrying all of the bugs and dirt it picked up after racing for 24 Hours!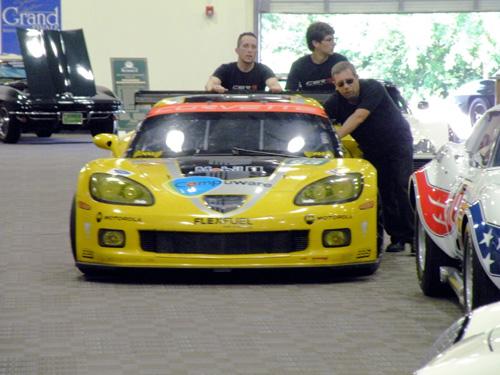 Thursday evening Collection owners and those attending Bloomington Gold who were fortunate to receive invitations (approximately 2,000 total), attended the gala grand opening of the Collection, enjoying the scenery and hor 'dourves. Several times over the event, an excellent video was shown which showcased highlights of past Special Collections, and announced what event will take it's place at future Bloomington Gold events.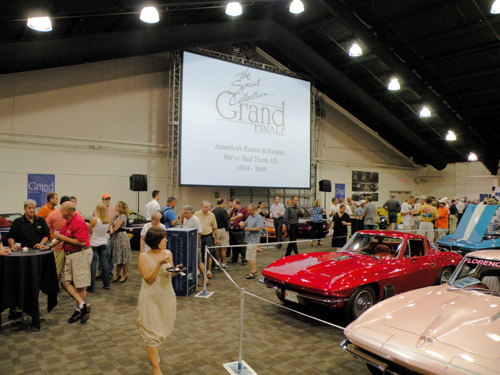 The event was open on Friday, and until 2pm on Saturday, when the cars were paraded across the street to spend 2 hours in a special display on the Pheasant Run Golf course. After this display, the cars were escorted off the course and released to their owners.
Looking back on the event, we were able to represent Corvette Pace cars in the display, enjoy the company of those friends and other Registry members we ran into at the event, take in the swap meet and vendor areas, and view all the Corvettes on site being Bloomington "certified" or going thru the Mecum Corvette Auction. Additionally, we were able to distribute our tri-fold membership flyers to several Pace car owners passing by who had not heard of our organization before.
All in all, this was a great time for those members in attendance. So, what is next to replace the Special Collection? A new event called "The Great Hall", which will showcase the Educators, Events, Builders, and other Corvette related areas. Don't miss it in 2010!
To view our entire library of photographs from this event, visit our online Photo Gallery.