5/23/2009
The more than 300,000 spectators who were estimated to have lined the two-mile parade route had a glimpse of many celebrities, Grand Marshal Dick Vitale, the 33 starting drivers of the 2009 Indianapolis 500 ®, more than 80 specialty units, floats, marching bands and entertainment groups, giant inflatable balloons and costumed characters including SpongeBob SquarePants, Pablo and Tyrone from "The Backyardigans" and Dorothy the Dinosaur and Wags the Dog from "The Wiggles."
The weather for this year's Parade could not have been better!
The IPL 500 Festival Parade has grown to be one of the signature events in the U.S. each year. It consistently ranks among the top three parades in the nation including the Pasadena Tournament of Roses Parade and the Macy's Thanksgiving Day Parade.
Themed "Laps, Legends & Legacy: Honoring the 100th Anniversary of the Indianapolis Motor Speedway®" this year's parade was a true representation of the power and pageantry of the month of May - a Hoosier tradition for 52 years with a television package that bolstered the Parade's national presence.
The mission of the 500 Festival is to produce events and programs that celebrate the success of the Indianapolis 500 Mile Race and enhance the quality of life for the citizens of Indiana and their guests. These events and programs, produced largely by volunteers, enhance the image of our city and state by showcasing our cultural, educational, and social benefits to the world.
Thirty Five Corvette Festival cars joined the 2010 Camaro Pace Car and a Camaro Coupe Track car in the Parade and carried the starting drivers, several dignitaries, and their guests.
The Circle City Corvette club also had a large contingent of Corvettes in the parade (pictured below)!
This year's Pace Car Driver is Josh Duhamel, a Daytime Emmy Award-winning actor and fashion model who has starred on ABC's "All My Children" and NBC's "Las Vegas." Duhamel made his big-screen acting debut in 2004, starring in, "Win a Date with Tad Hamilton!" Duhamel has also appeared as Captain William Lennox in "Transformers," and will reprise the role in the upcoming sequel "Transformers: Revenge of the Fallen."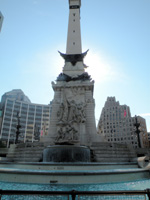 Above: Monument Circle