2016 Indianapolis 500 Pace Car Reunion!
May 21st-22nd, 2016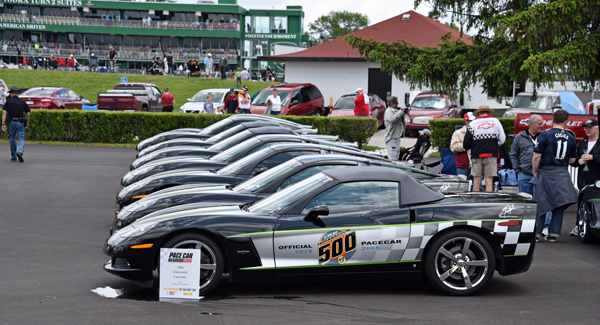 The Event of the Century is now history !
While this year Camaro led the field as the Official Pace Car of the 500, The Chevrolet Corvette Pace Car Registry shined this weekend as several of our members played key roles in organizing this event with the Indianapolis Motor Speedway Museum.
This Milestone Reunion played host to over 241 Indianapolis 500 Pace "Vehicles" from over the years! The setting was great with excellent visibility for those spectactors attending Pole Qualification weekend since we were setup right in front of the Museum.
No less than 81 Corvettes, of which 66 cars belonged to Members or Registrants of the PCR attended ! Of these, the 2007 Corvette Editions were the dominant Year of the event wth 19 being represented !

Other than a brief period of rain overnight Friday and early Saturday morning, the weather was great with a fun-filled weekend of on and off track activities to keep attendees engaged.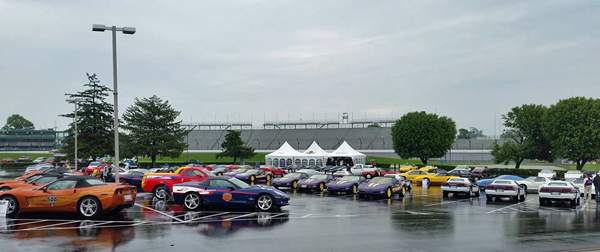 Members/Registrants enjoyed sharing their cars and stories with other Pace Car owners and Fans, a Parade lap set oldest to newest in years (not limited to the traditional 25mph I might add), Early event packet pickup and a Welcoming Party with Pizza and Beverages at the PCR Host hotel Thursday evening, traditional PCR member dinner (this year at Rick's Boatyard Cafe) on Friday, Saturday night Dinner inside the Museum, and of course track action for Pole Qualifications for the 100th Running of the Indianapolis 500 !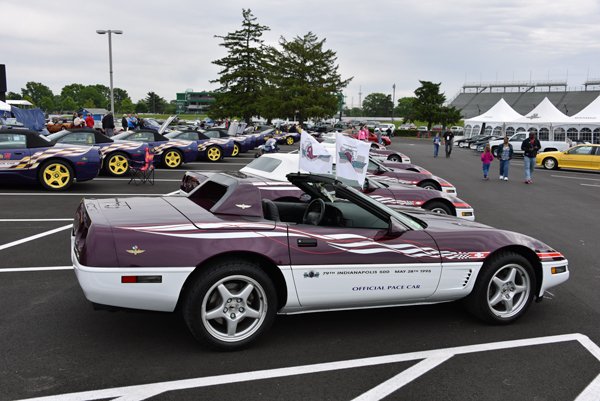 Attendees enjoyed an Excellent package for the price, incuding up to two Bronze Badges that would allow access into the Garage Area where you could view activities underway in the garages, and spot and hunt Drivers down for autographs !
Photos were taken of the cars at the "Yard of Bricks" during the Parade lap which could later be purchased in the Photo Shop within the Museum before you left. There were even a few "drive-by" sightings of drivers in our display area checking out the cars and stopping to sign a few autographs, including Dario Franchitti !
We hope all those that attended enjoyed the event, and of course thank the Indianapolis Motor Speedway Museum and all those other workers and contributors who made this event a Huge Success !
Click HERE to go to our photo library out in SmugMug - Enjoy !