Bloomington Gold 2015 at the Indianapolis Motor Speedway !
June 25th - 27th, 2015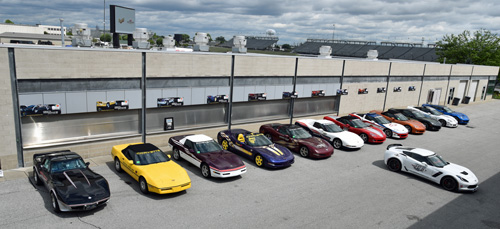 The Inaugural event is now history, what a Great time we had !
Over the years, Bloomington Gold has been promoted as the Premier Corvette Show in the country. For 2015, the event moved to one of the Premiere Venues in the nation, one of our favorites, the Indianapolis Motor Speedway.
The Chevrolet Corvette Pace Car Registry received great visibility at this event, sharing a Formula 1 Garage with the National Council of Corvette Clubs, reeling in some new members, catching up with some old members, and successfully meeting our goal of hosting the first known display of ALL 13 Indy 500 Corvette Pace cars, including this year's 2015 Z06, thanks to assistance from Chevrolet and the Indianapolis Motor Speedway!
Thursday evening we met for a Welcome Dinner- a gorgeous night out at Rick's Cafe Boatyard Restaurant. Great food and friends !
Weather could have been better during the weekend, dodging rain thruout the entire event, but we did enjoy our inside time touring the 500 Museum and Photo shop, IMS gift shop, and attending a Pace Car seminar presented by our own Bob Kirsch on Friday morning.
There was also the customary Bloomington Gold "Special Collection" of this year's featured car, the 1965 Corvette and a huge Vendor mall to pick up your favorite collectible, and the Speedway took the wraps off the Brickyard Pace car during the weekend also as it participated in Pacing some of the track laps for those who attended.
Saturday afternoon we enjoyed taking our lap on the track (and it was quite a few miles an hour faster than has been the tradition in the past), followed by a 41 mile round trip Road Tour thru the Indianapolis surrounding countryside with all roads closed and a police escort leading the way.
Sunday morning we departed.... but with some exciting news - the Speedway has announced an exciting and large all-model Indianapolis 500 Pace "Vehicle" Reunion that is being planned in May 2016 during Qualification weekend in honor of the 100th Running of the Indy 500 ! Our Registry has been asked to participate and play a large role in the event, so planning begins for that Celebration - more news to come as it develops, you won't want to miss that one !
There were 43 Registry members in attendance, including 9 new members that were added to "the family" during the event! Welcome ! Major Kudos to our on the ground organizers working with the Speedway and our other venues Bruce Jeschke and LaVelle Hunt.
Click HERE to view our Smugmug photo gallery for more images of our fun filled event !