Corvette Pace Cars featured at Barrett Jackson
Palm Beach April 9-11, 2009

Round two of the 2009 "Triple Crown" is over. There were 38 Corvettes that went on the block, including four Corvette Pace Cars ! The selloff of many GM Heritage Museum collection vehicles continued, and the big news on Thursday was that due to some title legality issues, all the GM cars were pulled from the auction. The issues were resolved, and they were reinserted throughout the remainder of the event.
On the block:
Lot 342.1 - 1978 Indy Pace Car -$ 37,400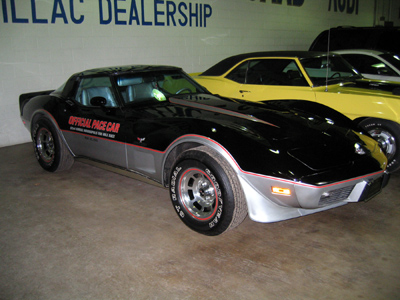 A less than 2,400 original mile, totally un-restored car. Has always been cared for and stored properly from new. The only street legal Corvette Pace Car sold at this auction. Documentation from this car's original build and purchase has been preserved and is included.
---
Lot 421 - 2003 Corvette 24 Hours of LeMans Safety Car #6 - $ 28,600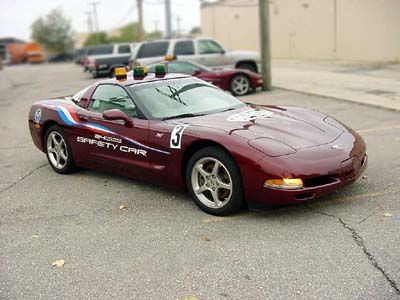 An official safety vehicle from the 2003 24 Hours of LeMans race. Equipped with a 5.7 Liter OHV aluminum LS1 engine with 360 lbs/ft at 4000 rpm, 350hp at 5600 rpm. This LeMans safety car rides on Goodyear Eagle F1 EMT Tires 245/45ZR-17 front, 275/40ZR-18 rear, qualified with OEM 50th Anniversary Gold 5-spoke wheels. The lights on this car feature Whelen ISP188 power supplies, GM export amber rear side marker lamps with Whelen clear strobe bulbs, Whelen amber strobe bulbs in reverse lamp housings, North American Signal Company roof-mounted strobe accessories and custom 4-lamp interior roof-mount strobe housing. Additional exterior features include 50th Anniversary specific metallic red paint with unique graphics, 50th Anniversary badges on the fascias and front fenders and 3M reflective 24 hours of Le Mans specific safety car graphics. Safety features include Simpson 3" wide safety 5-point harness for driver and passenger and Pemall hand-held fire extinguisher mounted in rear cargo area behind driver. Sold on a Salvage Title.
---
Lot 675 - 1978 Official Indy 500 Pace Car #4 - $ 29,700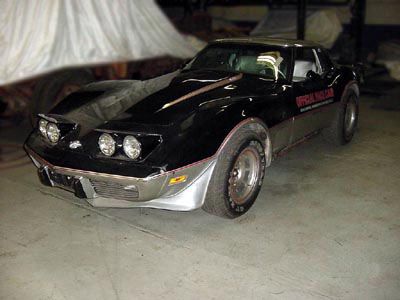 GM still had it in their collection.... this was one of the engineering prototypes that was the second V.I.P. Parade Lap Corvette on the track prior to the start of the race. Also, U.S.A.C. used the car as their Official Pace Car for the balance of the 1978 Championship year through November, 1978. It really looked in BAD shape, interior need a lot of work, engine compartment missing parts, paint bad and it looked like it was rear ended .... The T-Tops were painted Silver, and not the reflective glass units that were used in production. But it still went for $29,700..... Sold on Scrap title. A real piece of history and the sweetheart of the bunch!
---
Lot 680.2 - 1997 Corvette 24 Hours of LeMans Show Pace Car - $33,000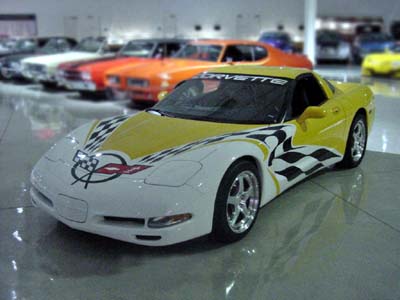 Features a high-compression 6.1 Liter OHV aluminum LS1 V8 engine with produces 450hp at 5900 rpm, 441 lbs/ft torque at 5000 rpm. The transmission is a rear-mounted, 6-speed manual. Also features Goodyear F1 Fiorano tires and Fikse aluminum wheels. The stabilizer bars are Hotchkis Performance 25.4mm hollow front with FE3 bushings and F45 19mm hollow rear with F45 bushings. Also has a chassis-mounted rear axle housing with limited slip differential, 4-wheel independent suspension, SLA with composite transverse leaf spring front and rear, F45 shock absorbers, front and rear, and a black leather trim interior. Engine modifications include a deep skirt cast aluminum cylinder block with new iron lines to increase bore to 4.00" and high-strength cylinder head bolts, Diamond Racing forged aluminum pistons and Gerotor oil pump, sequential port Fuel Injection, individual cylinder control coil-fired ignition, and electronic throttle control, composite intake manifold plenum with single 75mm throttle body and Flow-enhanced aluminum cylinder heads, milled .030 to increase compression ratio. Sold on a scrap title.
---
Prices listed includes 10% buyers premium.
We can't wait to see what shows up in Vegas in October !!!