Brickyard Crossing Demolition Completed
Updated: May 2010
As we reported in our December 2008 ePacer newsletter, the Legendary Brickyard Crossing Inn did close as planned.
The Brickyard Crossing Inn came to be known as the Speedway Motel, and back when it was built 45 years ago, there wasn't another hotel in sight. Now there are 30,000 hotel rooms in the vicinity -- many of them much, much newer -- and it was decided by the powers at the Indianapolis Motor Speedway that the Speedway Motel just did not have a place in the modern world.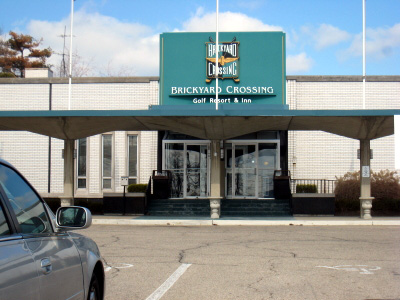 After a year of deliberations, they concluded that bringing the establishment up to modern standards would simply cost too much, so the hotel has been closed and its fifteen workers sent home for good.
Our guess is that turning it into a museum where Paul Newman's "Winning" was filmed, having Jeff Gordon eat pizza there to celebrate his 1994 win at the Brickyard 400, and a number of unmentionables that happened simply wasn't compelling enough.
We thought we would take a moment to share some photos taken during the demolition. Today, this area is nothing more than a parking lot, althought the Restaurant, Pub, and Pro Shop remain to support the Golf course. Will we ever see a new Hotel/Motel onsite?? It would be nice !!