Reunion 2014!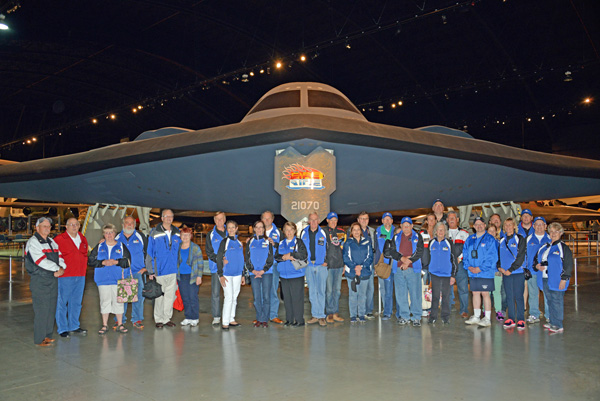 THE 8th PACE CAR REUNION
May 14-18th, 2014
For those that attended, our Reunion started off in a dreary, cool, soggy way with plenty of weather in the area (mostly bad).
We had 58 people who registered for this, our 8th Pace Car Reunion! We had a great variation of Corvette Pace cars (1978 thru a 2014 Replica as well as our repeat attendee with his Gatorade Duel Daytona Pace Car, and several Corvette non-Pace Cars and even one Camaro!).
Fortunately those events planned for Dayton were indoors and unaffected by the weather, and to be positive, there was no need to wash/clean our cars! Later during the event, and before we reached our final destination of Indianapolis, the weather turned around and gave us a beautiful Saturday at the Speedway for Qualifying weekend festivities. Those PCR Reunion jackets that were part of our registration package really came in handy!
Wednesday evening was our Sub Sandwich Welcome reception at the Host Hotel to kick off our event.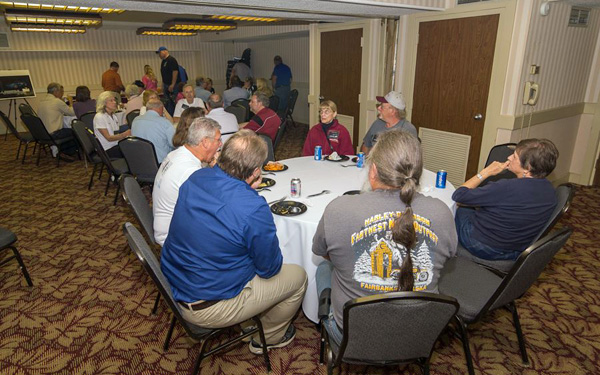 Thursday morning saw the group heading off to the National Museum of the US Air Force for a 1/2 day self guided tour.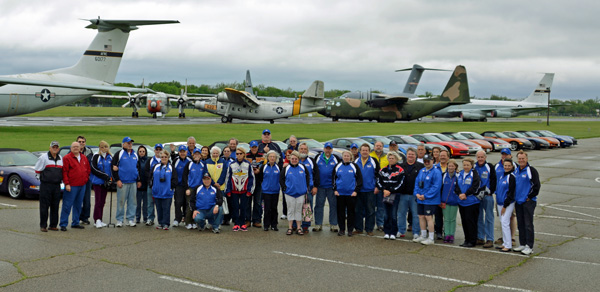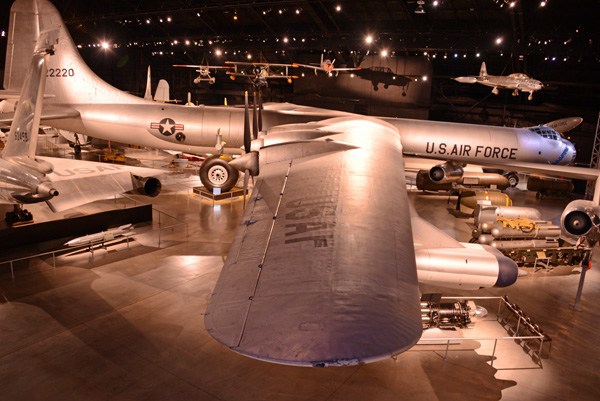 The group then headed off to Carillon Historical Park for lunch followed by an afternoon guided tour.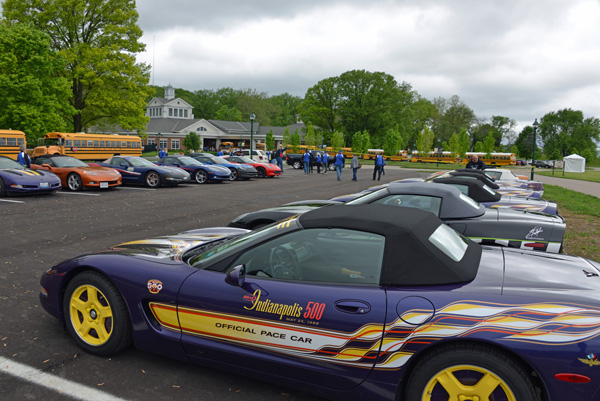 For those who are not aware, Carillon Historical Park engages you to sample Dayton's rich heritage of creativity and invention! Founded by Colonel Edward and Edith Deeds, the Park is situated on a beautiful 65-acre campus between the Great Miami River and a glacial moraine.The Park immerses you in the region's history – from Dayton's founding in 1796 through two centuries of expansion, industrialism and innovation.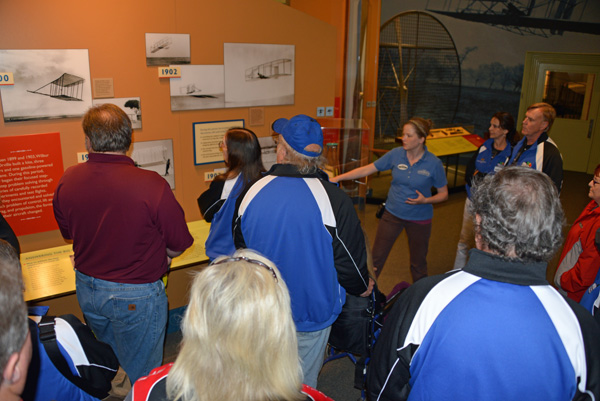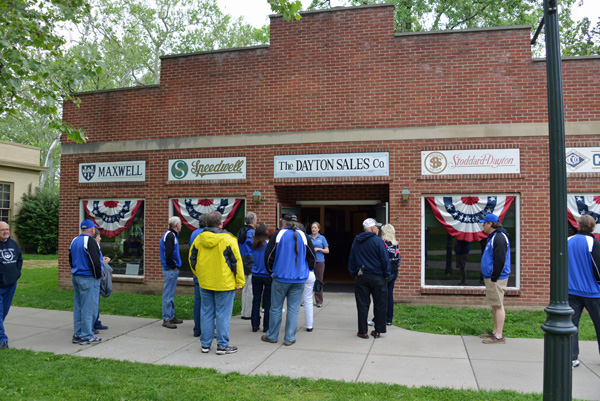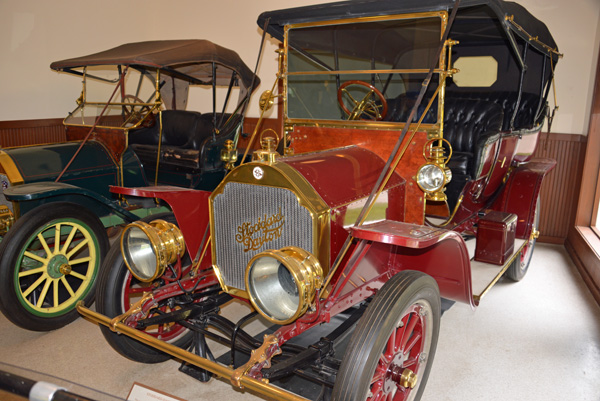 We then headed back to the hotel and had a great buffet dinner and small presentation about the Registry and our history. We were fortunate enough to have a Member of the Board of Directors from the National Corvette Museum in attendance who gave a brief update on the events surrounding the devastating Sink Hole that occurred there earlier this year.
Friday morning we embarked on our "travel day". The final destination was Indianapolis, but we made three stops along the way to view privately owned car and automobilia collections, enjoying lunch at one stop, and dinner at another.
Stop 1, the James A. Collection. This was a very large eclectic collection of cars. Many brands, domestic and imports, stock to custom, some in various stages of restoration, and a few unexpected items to see! The common fact about the collection may be that they are all manual transmission cars, which the owner really enjoys. James was also nice enough to coordinate having our event logo up on the large video billboard next to his business overlooking the interstate!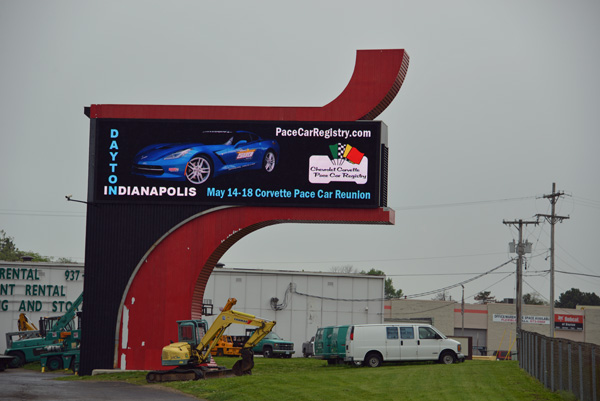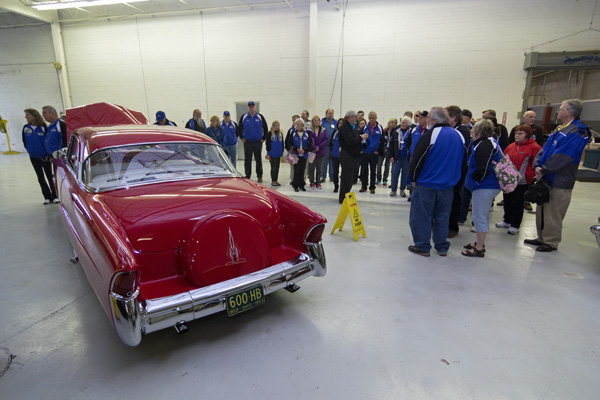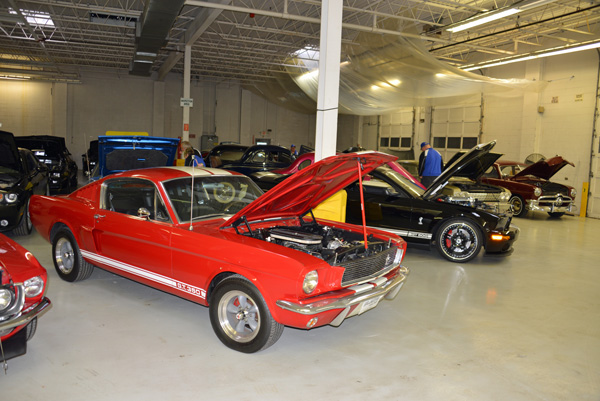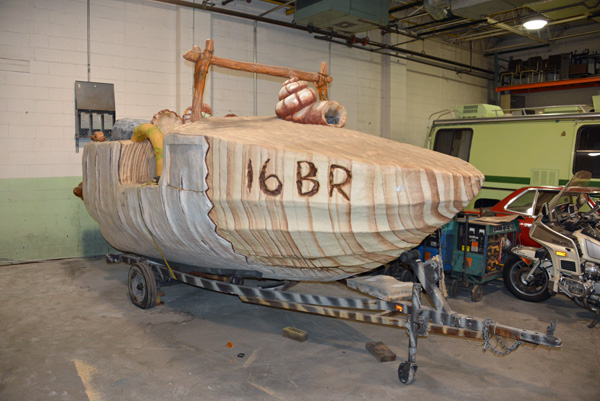 Yabba Dabba Doo, time to go fishing ! Check out our Smugmug photo album for all of the photos of the cool cars (things?), we viewed!
Stop 2, the Bill M. collection and a Pizza lunch, During the tour at Bill's we viewed his collection of Corvettes representing years 1953 thru 2008, including one of every Replica Corvette Indy Pace Car year produced, a Corvette Challenge race car, and a '63 Split Window A/C Coupe. We were also treated to a viewing of his rather large gun collection, and a Pizza lunch!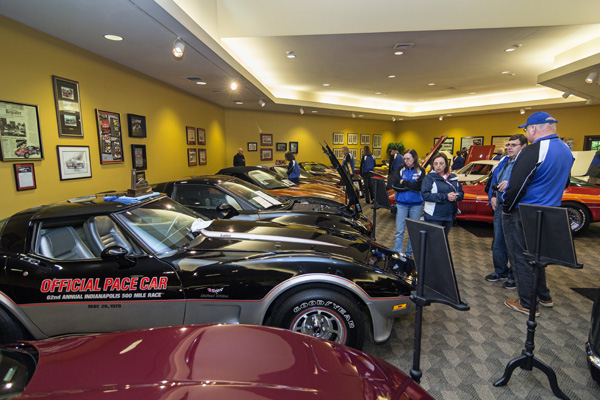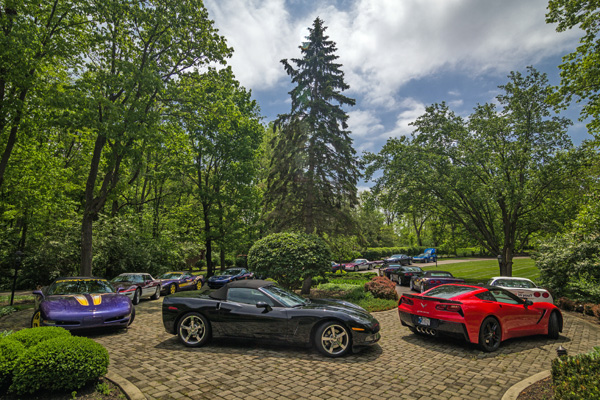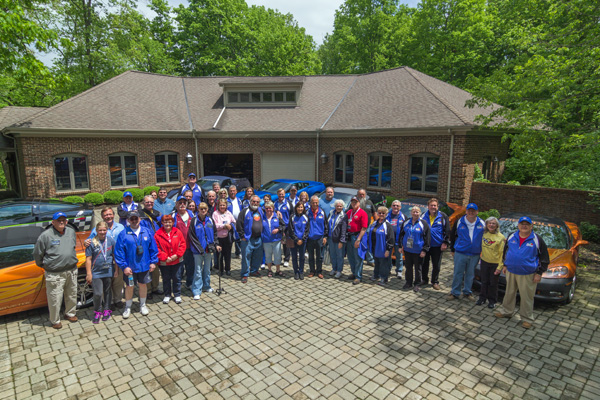 Above - yet another photo op of our gang, this time at Bill's place!
Our 3rd and final stop of the day was to view the wild collection of automobilia owned by Tom M. This collection is anything you can imagine that ranges from pedal cars to classic restaurant items, to neon signs, to .... and the list just goes on. Oh yeah, and sprinkled thru the collection are a few cars, like a Ford GT, C2 Corvette, Vintage Ford Thunderbird, Classic trucks, and more. You really need to check out the detailed photos on our SmugMug Gallery. Here are but a few.....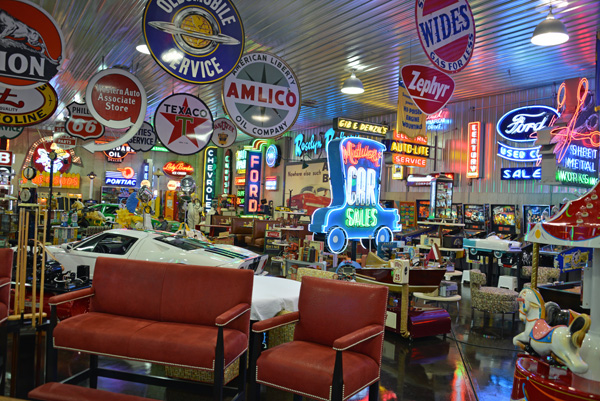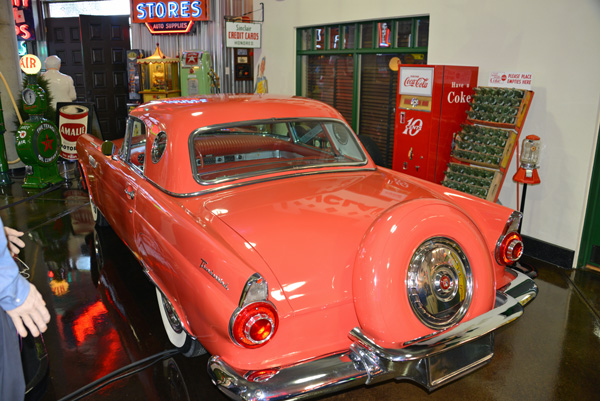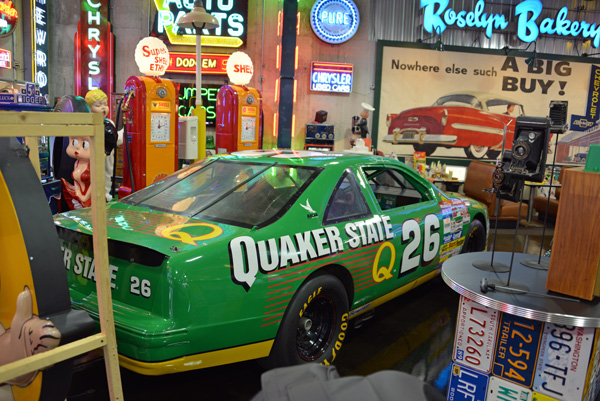 We also invited Steve from Furious Shine, the FIRST Adam's Premium Car Care Authorized Dealer in Indiana. Steve was gracious enough to setup his large display of Adam's products, answer detailing questions/suggest solutions, and offered those in attendance a very nice discount for items purchased that day.Thanks Steve!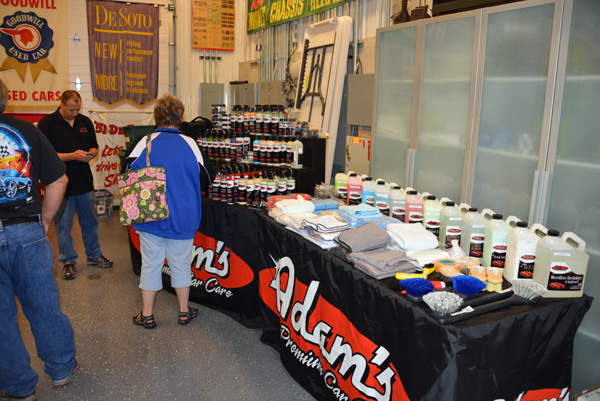 Saturday, Our final Day -
After some socializing at the Hotel Bar Friday evening, we had a good nights rest and started Saturday off with a Breakfast Buffet, and then off to the Indianapolis Motor Speedway to locate our special infield parking on the F1 turn and enjoy Pole Qualifying day !
Could it be, yes, our final photo op - this time at the Speedway and with all of our attendees - including those that joined us for the Indianapolis leg only.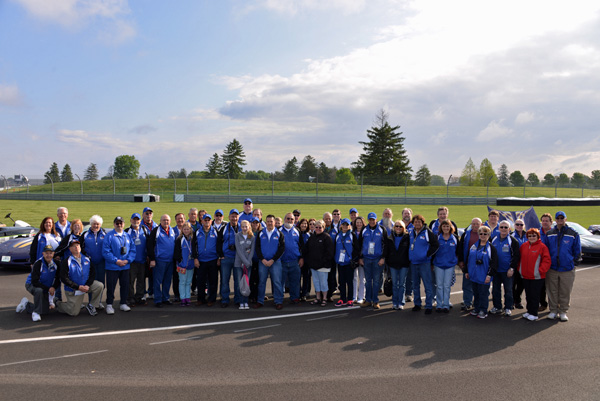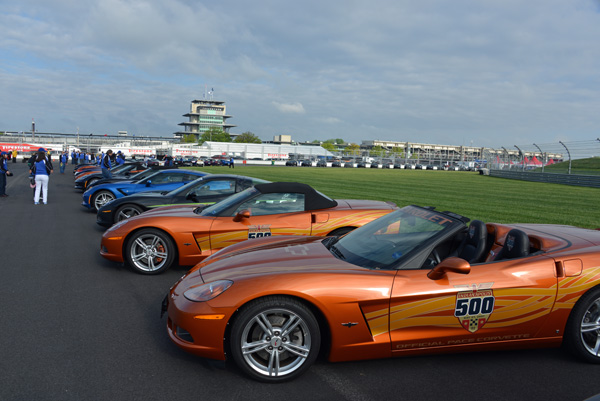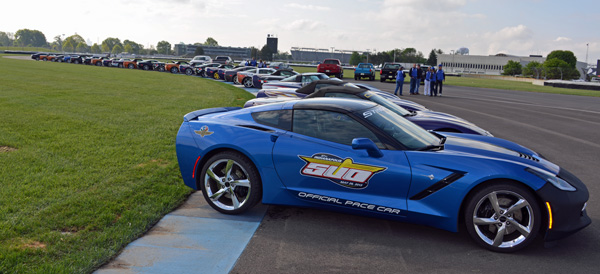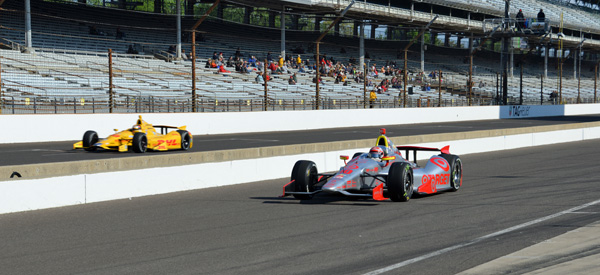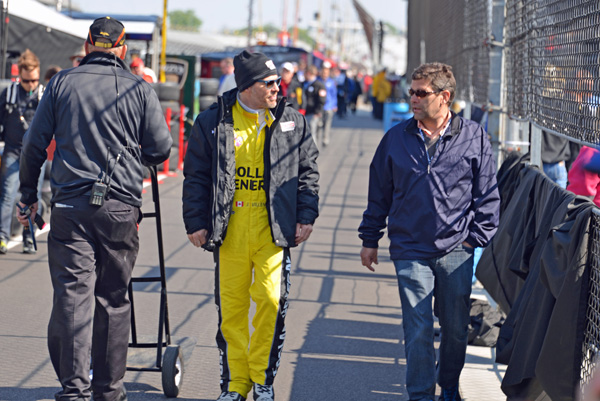 Above: How does that song go again - something about "Back Home Again in Indiana..." - our 1995 Winner Jacques Villeneuve was back in the saddle, his first return since his epic win and move to Formula 1 in 1996.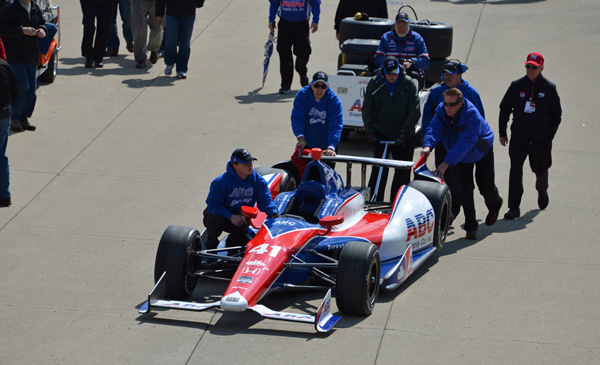 And for our final photo of the day below, you need to keep your eyes open for race team members everywhere!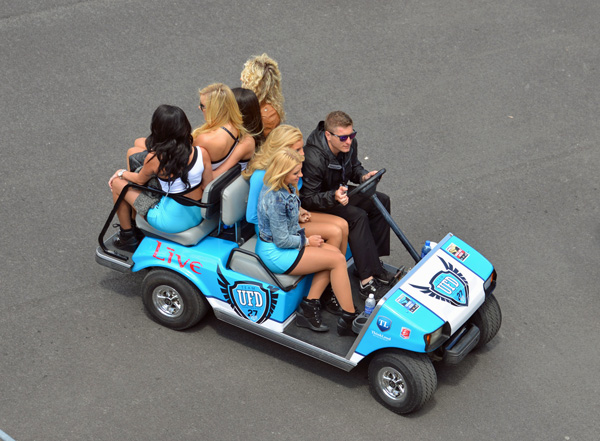 To close our event, we enjoyed a great dinner at Grindstone's Restaurant and Pub, and our bi-annual Membership meeting and Door Prize distribution back at the Hotel (below), and then Sunday we were all making our trek home (or staying to view day 2 of qualifying),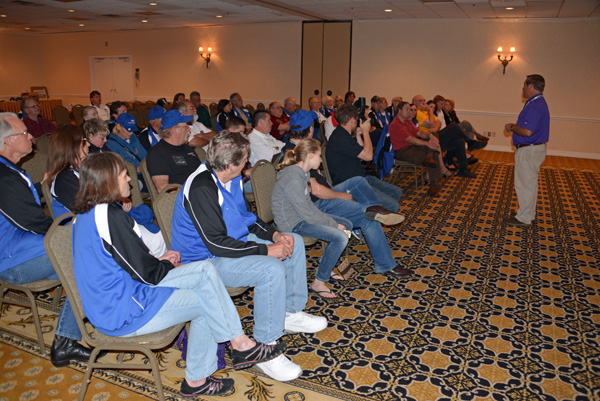 We would all like to thank James, Bill, and Tom for opening their doors to their private collections for our Reunion attendees, not to mention hosting our lunch and great Bar-B-Que dinner!
And of course we would be remiss in not thanking the three key players who brought the reunion together, Bruce J, Bruce B, and Lavelle, our hands on the ground! Job well done!
Also, a special thanks to those who contributed door prizes, including Dana Forrester for donating one of his multi-year Pace Car Giclee prints, titled "Steak and Eggs"!
To view more photos, we have two albums on our SmugMug account. One album contains photos taken by our Communications Director, Bob Kirsch. <HERE>
The second album contains photos taken by Brandon Townley, <HERE> who was the official event photographer. To purchase professionally made prints from his album, please email him at : brandontownley8114@gmail.com for more information and pricing.
Be sure to check out all of our other SmugMug Event Photo Albums, just select Browse and surf away !
How do we beat this in 2016!
Bob Kirsch
Communications Director