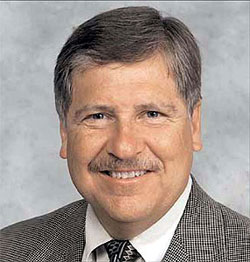 10/24/08

On Jan. 1st, 2006, Tom Wallace officially became the car guy with the best job in the world. On that day he succeeded Dave Hill as Corvette chief engineer and vehicle line executive (VLE) for performance cars. Wallace became only the fourth person to carry the title of Corvette chief engineer in the marque's history, joining an exclusive club whose membership includes Zora Arkus-Duntov, Dave McClellan and Hill.

On October 24th, 2008, it was announced that Tom Wallace will be retiring from GM at the end of the month. The news was delivered during an event at the Peterson Museum honoring Corvette history.
Wallace, 60, who has worked for GM since 1966, retires just one month shy of having run the Corvette program for three years. He is only the fourth chief engineer in Corvette's 56-year history.
During Wallace's tenure, the Corvette team finished and launched the ZR1--a supercar laced with racing technology, from its carbon-fiber body panels to composite-material brake discs and its supercharged 6.2-liter V8 rated at 638 hp.
Wallace was known for his keen grasp of performance-car culture and a passion for the marque, and his departure has come as a shock to many. We at the Pace car Registry wish him well in his future endeavors - he will be missed in the Corvette world!
Gene Stefanyshyn, GM's global vehicle line executive for rear-wheel-drive vehicles, will add the Corvette responsibility to his duties.
BEST OF LUCK TOM !!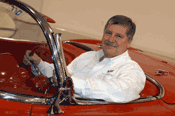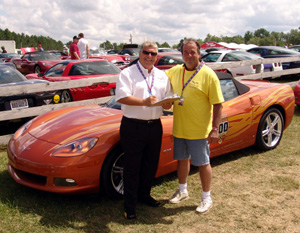 Above: Tom Wallace completing his paperwork to become a member of the Pace Car Registry during the 2007 Mid Ohio ALMS race. Tom also owns a 2007 Pace / Track car. Also pictured is Jim Egan, PCR Public Relations Director.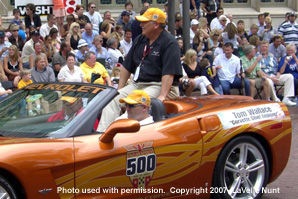 Above, Tom rides along in the 2007 IPL 500 Festival Parade.