The Pace Car Registry has again been contacted by our friends at the National Corvette Museum in search of the owners of 2007 Indianapolis 500 Pace cars and we are passing on this important information to you!
Pictured below is an example of one of the plates that they have in their posession that Chevrolet had intended to distribute to the first owners or the 2007 Pace cars.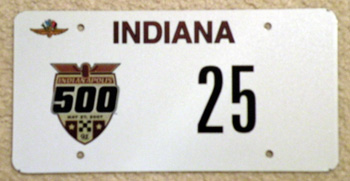 Above, license plate from Build Sequence # 25
The way this was to work was when the cars were sold, Chevrolet would mail out a welcome pack to the owners that contained the following :
a letter of authenticity containing the VIN number and signed by Ed Peper, Chevrolet General Manager and Tony George, President and CEO of IMS
a Thank you letter from Gary Claudio, Corvette Marketing Manager
a 2007 Indy 500 Pace car "Hero card"
a Thank you post card from Ed Peper, Chevrolet General Manager with a mail-in card to register for updates on the latest news
a $50 certificate that could be used for a purchase from Chevrolet of a "Genuine Corvette Accessory"
a license plate that contained the Indy 500 event logo, and the build sequence number of the Pace car.
Of course, after a certain amount of time, Chevrolet gave up on the project, just like the Photo Books.
Note: These are not the "official" event license plates assigned to track and festival cars. Pictured below for comparison is one of those license plates :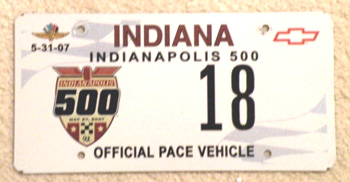 As you can see, the "official" plate above also contains the date of the event (5-31-07), Chevrolet BowTie, "Indianapolis 500", and "Official Pace Vehicle". The background of the plate above contains the checkered flag "swooshes on the top left and lower right of the plate.
For the two license plates pictured, both are correct for the same car. In this case, the Sequence numbered plate 25 signifies it was the 25th Corvette Pace car produced, and this car was also used as a track car during the Indianapolis 500, and was assigned license plate # 18.
The Museum has MOST, but not ALL of the Build Sequence license plates. To inquire about how you may obtain yours, please contact Betty at the National Corvette Museum at betty@corvettemuseum.com, or by phone at 1-800-53-VETTE. Please note that Chevrolet has donated these license plates to the NCM to be used as a fund raiser, and they will be asking for a tax deductable contribution of $50 plus s/h.
You will be required to provide the full VIN of your car, your name and contact information, and if you know already, the sequence number of your car. Betty can explain more, so call her ASAP.
Currently, of the 500 license plates poduced for all the replica Pace cars, she has the following remaining :
8, 17, 24, 29, 30, 31, 33, 34, 35, 38, 42, 43, 49, 56, 57, 59, 66, 93, 99, 122, 128, 143, 148, 149, 152, 169, 172, 174, 177, 178, 179, 180, 184, 191, 198, 201, 204, 210, 215, 225, 228, 230, 235, 239, 241, 243, 263, 271, 274, 277, 284, 293, 311, 319, 325, 334, 337, 341, 354, 356, 360, 367, 371, 374, 384, 388, 390, 393, 407, 422, 423, 424, 436, 479, 488, 494, 495, 499
AND DON'T FORGET - While you are talking to Betty, if you need a copy of your Window Sticker or Build Sheet she can also help you out.
AND.... if you DO have one of the Corvette track cars from 2007 or 2008 and do not yet have your assigned Photo Book, she still has some of those in hand for sale! Your one stop shopping to complete documenting your car!
Call her TODAY and mention the Pace Car Registry sent you!